The Best Kids' Face Shields They Can Pair With Their Trusty Mask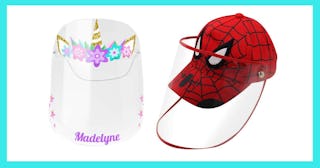 The coming school year will be unlike any other, and whether your kids will be remote learning or headed back to the classroom, they'll need a face covering of some kind if they ever want to leave the house. Face shields, in particular, are picking up in popularity as protectors against the spread of COVID-19 (although it's suggested that everyone, no matter what. still wear a mask — even while wearing a shield). But while our trusty face masks are still a wardrobe must-have, a shield may be a more comfortable option for your kiddo in certain situations.
Plastic shields don't lie directly on the face, making it easier and cooler to breathe, especially while doing outdoor activities like playing sports or hiking.
So to make sure you're covered (literally), we rounded up the best plastic face shields for kids to keep them safe. From fun prints to popular brands like SA, we brought you the top options on Amazon that are so cute and comfy, your kid will actually want to wear them.
We may never have thought that face coverings would become a daily accessory, but these mom-approved picks will help kids enter the 2020 school year in comfort, safety, and — dare we say? — style.
Best Kids Plastic Face Shields
Best Kids Face Shield + Hat Combos
Check out more mom-approved kid gear to get you through the summer and into the school year.
This article was originally published on