My New Beauty Must-Have Is A $10 Facial Mist With A Cult Following
by Karen Tietjen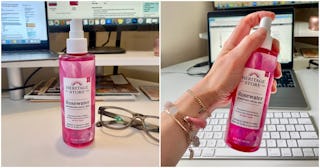 Karen Tietjen/Scary Mommy
Facial mists: Not just for hot weather. Living in the dry New England weather, my skin craves moisture constantly. Pair that with the daily inevitable afternoon slump — made "slumpier," since I work from home — and Mama needs a refresher every day around 2 pm (and also before and after).
Needless to say, I was thrilled to find Heritage Store's Rosewater Spray to help perk up my tired complexion and mind.
As a bonus, this stuff smells like fresh roses, a welcome scent in the dead of winter when there's only snow on the ground. When I'm feeling sluggish or unfocused, I spritz some rosewater mist on my face, neck, and hair, and breathe deep to bring myself back to reality. It also lends some dewiness to my parched skin so I even look more awake, which is essential for Zoom meetings. Paired with (another) cup of coffee, and we're back in business, people!
A brand that's been around since 1969, Heritage Store embodies that vintage charm of the simple, natural beauty products you'd expect to find in an old-school drugstore. I love that the rosewater mist is only made with purified water and rose flower oil, and nothing else — it's even vegan and cruelty-free. It's super affordable, too, at about $10 bucks for a full 8-ounce bottle.
Needless to say, I always keep a bottle of this mist on my desk for when I need a quick reset, a dose of moisture, or I'm just in the mood to "smell the roses." And turns out I'm not the only one — this stuff has a cult following with over 7,700 reviews and an average 4.7-star rating on Amazon.
"I use this product on my locs [and] face, it is wonderful!" raves buyer Debra. "It smells great, moisturizers and is vegan which is what I like best about it! You cannot go wrong with this product."
Says fellow fan Sarah, "This rose water has been on my vanity counter for YEARS. Dry skin? Use this. Make-Up refresher? This is your guy. Fresh out of the shower toner? Yep. Bad day? This will revive your mood. I am obsessed with this product and will pass it down to my children."
So if you're looking to treat yo'self without breaking the bank, this little bottle will do the trick. After all, you deserve it.
This article was originally published on