This Highly-Rated At-Home Facial Steamer Is On Sale For Over 45% Off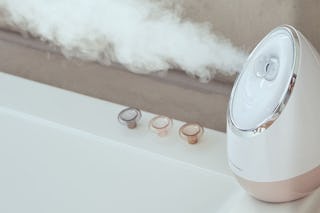 StackCommerce
A quick scroll through Instagram or TikTok can leave you reeling with questions about your skin. How are everyone else's pores clear and skin perfectly moisturized with all that makeup they're wearing? Some of them may be secretly using this highly-rated Aira Facial Steamer to get spa-quality facials at home. And, while the results are impressive, the current price tag under $50 may be the most impressive thing about it.
The Aira Facial Steamer detoxifies skin through therapeutic steam that hydrates and softens your skin. An ion generator helps the steam penetrate and clean deeply to clear up impurities and dead skin, so you're left with refreshed and healthy skin that will take to your other treatments effortlessly.
There are plenty of five-star reviews of this Aira Facial Steamer to read through, but as Elaine C. put it, "It's helping reduce the clogged pores I get from wearing masks." She also loves the included bunny-eared headband that comes with the steamer to keep your hair out of your face in style while you cleanse. Amy A.'s five-star review mentions how much her husband even loves the cute headband.
All skin types can benefit from a trip to the spa for a facial and fortunately for your bank account, the Aira Facial Steamer is great for all skin types to save you the trip and the payment. Add in essential oils to get the spa vibes going while you clear your skin and stimulate blood circulation to make your face come alive.
A facial at the spa could cost you upwards of $200, and doing a treatment for yourself at home with the Aira Facial Steamer typically costs you just under $100, but for a limited time, you can get the Aira Facial Steamer and the cute bunny-eared headband at a 47% discount for $49.99.
Prices subject to change.
This article was originally published on