This Blowout Brush Gives You Perfect Hair for Less Than the Price of a Salon Blowout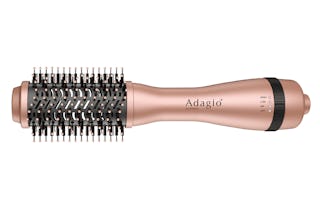 Do you miss blowouts? No, not those kind of blowouts–the good kind, that leaves your hair looking absolutely perfect. Since most of us haven't been able to even get our hair cut over the last year, chances are, heading to the salon to have someone else wash, dry, and style our hair has sounded like the ultimate unattainable luxury. But, imagine if you were given tools that made achieving artfully styled hair at home a whole lot easier? The Adagio California 2″ Professional Blowout Brush makes this possible, for less than the cost of a blowout at the salon at just $49.99.
The Adagio California 2″ Professional Blowout Brush combines your hair dryer and round brush in one, making it possible to get a sleek blowout without having to tire both of your arms out as you attempt to brush and dry at once. It works for all hair types, providing smoothing and volumizing benefits, simultaneously, as you dry your hair. Just pick from the different settings: the low setting is best for fine, thin hair, and the high setting is best for thick, coarse, or textured hair. Want to just get a little extra shine? The cool setting is perfect for that!
With an impressive 4.3 out of 5 stars on Amazon, happy customers are raving about the Adagio California 2″ Professional Blowout Brush. Moreen K shared, "It works really well with my hair type (fine hair) and it's easy to use. Drys and gives my hair cute style and volume and helps cut down on the frizzies! Love this product!" And Patti H. raved, "So easy to use. My shoulder length hair dries quickly (less [than] 10 min) and so soft, smooth and shiny. I have very frizzy, coarse hair The Adagio brush dryer makes it straight with just a little flip. I never thought my hair could be like this. Absolutely love it!"
Give yourself the gift of phenomenal hair at home with the Adagio California 2″ Professional Blowout Brush. It's available for a limited time at just $49.99.
Prices subject to change.
This article was originally published on