13 Ways To Make It An Unforgettable First Christmas
by Jenn Sinrich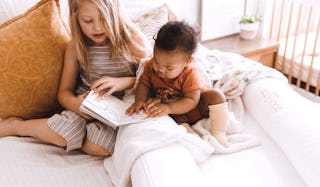 Dock A Tot
There's a first for everything, but one of the sweetest is sure to be your baby's very first holiday season. Whether you celebrate Christmas, Hanukkah, Kwanzaa or simply embrace the seasonality of it all, there's something adorably perfect to gift to your newest family member this year. Here are some of our favorites for babies under 12 months.
BEST FOR THE BABY WHO NEEDS A FIRST ORNAMENT
Some of the best memories are made when it's the first of something—so you'll want to document it as much as you can. While pictures are great, nothing is like capturing a print of your baby's foot size on his very first Christmas. This kit includes everything you need including 100% baby safe impression material, shaping ring, festive red ribbon, and a pin to create the ornament hanging hole.
BEST FOR THE BABY WHO'S LEARNING TO WALK
Believe it or not, your little bundled-up baby will be walking in no time—most likely within the next calendar year to be specific. And if she's oh so close to trotting on all fours, this is the ideal first holiday gift: an easy walker that triples as an activity center and drawing board. It cranks out fun music that your kid will love (but is sure to drive you crazy) and encourages her little mind to learn to walk, write, draw and more.
BEST FOR THE BABY WHO'S TOUCHING EVERYTHING
Most babies are all hands-on after 5 months, grabbing everything from your cell phone to your keys and (yep) putting them directly into their mouth. But a good toy can make all the difference. New parents rave about the Fat Brain Dimpl toy—promising that it keeps their little one's attention with its exciting, sensory bubbles. It helps boost fine motor skills and teaches cause-and-effect learning.
BEST FOR THE BABY WHO LOVES PEEK-A-BOO
Getting tired of playing peek-a-boo on the reg? Gift your curious little one this cuddly bear that recites six phrases and plays your baby's favorite game with him. At the push of a button, the bear hides behind his blanket before popping back out—sure to give your little one a belly full of laughter that you won't be able to resist recording a video of.
BEST FOR THE BABY IN NEED OF A PLAY GYM
No play gym? No problem. Get your baby the award-winning one that new moms and dads are raving about—and not only for its sleek design that won't kill the vibe of your entire living room. Not only is it cute, but it was designed by child development experts to support brain development for little ones. Expect this to be the place where some major milestones are reaching, like lifting her head and rolling over.
BEST FOR THE NOT EASILY DISTRACTED BABY
Consider this the gift for your baby that's also a gift for you because it will entertain him wherever, whenever so that you can get stuff done (or simply have a moment). The Take-Along Mobile is easy to transport and attach to pretty much everything—your stroller or bassinet, a play yard, infant seat, etc.—and provides 30 minutes of uninterrupted entertainment for your babe.
BEST FOR THE BABY IN NEED OF A GOOD LOVIE
Get your little one into the holiday spirit with every kid's favorite Christmas Time character: Rudolph! The loveable classic in lovie form is snuggly, adorable and, most importantly, free of anything that could fall off and lead to a choking hazard.
BEST FOR THE STYLISH BABY
If you're gifting a first holiday present to a baby, you want to make sure it's parent-approved. Assuming that said baby has all the toys she'll ever need (which she probably does), gift her something that she probably doesn't have a ton of—shoes she can actually walk in (and that are ideal for cold weather). With their enchanting pink stitching and cozy faux fur lining, this boot is sure to keep little toes warm and fashionable this winter.
BEST FOR THE BRAND-NEW BABY
Gifting a first-holiday gift to a brand-new baby? Consider Posh Peanut—a brand selling baby clothes crafted from buttery soft bamboo from viscose (hypoallergenic and treated without any chlorine-containing bleaches, zinc or sulfate). Great for all the first Instagram-able moments on the very first holiday as a family.
BEST FOR THE WHOLE FAM
A gift the whole family can enjoy (even your furbaby)—matching PJs! From Burt's Bees Baby, they're made from 100% organic cotton and come in six different styles and sizes ranging for the entire family. At least you know what you're wearing come Christmas morning!
BEST FOR BABY WHO'S NOT SLEEPING
This might be more of a gift for Mom and Dad, since this organic cotton wearable blanket is sure to help baby sleep longer and more peacefully, which in turn means so does Mom and Dad. Since it's wearable, it replaces loose blankets for little ones sleeping in cribs which helps to create a safer sleeping environment. It's also SUPER soft.
BEST FOR THE IPHONE-OBSESSED BABY
It's fascinating how your little one, even at a few months old, is mesmerized by your cell phone. If you're worried about him interacting with it (or, better yet, putting it in his mouth), this cell phone toy can become his very own. It has a mirrored front so baby can see his own reflection and has "antenna" cutouts that let you attached the toy to a stroller or infant seat.
BEST FOR BABY WHO MISSES THE SWADDLE
Once your baby's ready to roll (around four months), it's recommended that you stop swaddling them. But that doesn't mean your baby's emotionally ready to give up the swaddle. That's where the DockATot comes in handy—it's snugglier than an empty crib at night and gives baby a cool place to hangout during the day. The Grand is the next size up (good for 9-36 months), so it will last your little one until she's ready for the big kid bed.
This article was originally published on