Get Moving With This All-In-One Fitness And Wellness App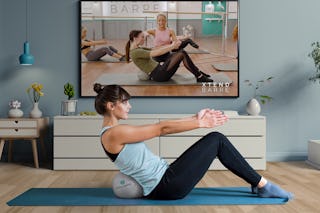 StackCommerce
Whether we like it or not, summer is almost here. And while some of us might have burnt off some anxiety and tension while working out during quarantine and are ready to emerge in shape and ready for summer, others might have coped with this crazy year differently and packed on some pounds. The Openfit Fitness and Wellness App can help you shift into a healthier lifestyle, giving you access to structured programs, fun challenges, a nutrition tracker, and plenty of live and on-demand workouts to keep you motivated. Right now, a 3-year subscription to this highly rated app is available for $199.95, just in time for summer.
With a wide range of resources and a seamless combination of fitness, nutrition, and wellness, you'll quickly see why Openfit has earned an impressive 4.9 out of 5 stars on the App Store. It makes healthy living easier than ever by providing workouts ranging from pilates to cardio to strength training and everything in between. There are over 450 live-trainer-led classes a week to keep things interesting.
Ready to take a class right now? On-demand workouts are available as well, with over 16 structured, daily programs available to fit your busy schedule. All you have to do is stream the classes from your laptop or smartphone, or you can use a Roku, Chromecast, Fire TV, Apple TV, or Samsung Smart TV. And, you'll also have the option of working with a personal trainer who will know your individual goals and desires and help you achieve them from the comfort of your home… no stepping foot in a gym required.
Hoping to change your diet, too? Openfit makes it easy to track your calories and macros, while giving you a wealth of delicious and healthy recipes to keep you on the right track.
Get a 3-year subscription to the Openfit Fitness and Wellness App for just $199.95 for a limited time.
Prices subject to change.
This article was originally published on