Get Wavy, Curly, Or Pin-Straight Styles With This $34 Flat Iron (Normally It's $200)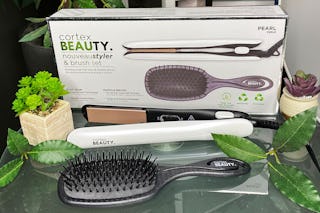 StackCommerce
Parenting has you wearing many hats; some days you're a soccer coach, and other days you're a corporate hot-shot. And, with all of these roles, you're probably changing your look with each — you're certainly not wearing your slacks and pumps to the field. The Cortex Beauty Nouveau Styler and Brush are your hair's ticket to those fast role transitions, and the set is perfectly priced while it's discounted today.
Before you read any further, the answer to your burning question is yes, it heats up fast, up to 420-degrees Fahrenheit! That means quick styling for quick transitions between your roles any day. The Cortex Beauty Nouveau Styler uses ironic technology to eliminate pesky static and frizz, so you'll arrive at work from the carpool looking more polished and less frazzled. You can even multitask while you're styling with the non-slip grip— don't pretend you haven't scarfed down toast while styling your hair before.
The Cortex Beauty Nouveau set is already unique for its quality, but the complete set with a styling brush sets it apart even further. When you're using hot-styling tools on your hair, you can end up with undesired breakage and dead hair. The nylon brush works to detangle hair with a soft cushion that can prevent breakage. Loads of reviews for Cortex products cite this tool as, "The best flat iron, hands down, I've ever had in my life. Leaves hair super shiny silky and pin-straight. Also, you can do curls and waves and it lasts for days!! I love it!! I've had this now for five years and it works like the first day I got it!"
Embody every version of yourself with the fast-heating and easy-handling Cortex Beauty Nouveau Styler and Brush. Knock out curls, flips, and straight strands perfectly when you act on this 83% discount today. The set typically goes for $199, but you can get it for $33.99 for a limited time.
Prices subject to change.
This article was originally published on