Game On: The Best Fortnite Costume Ideas For Halloween This Year
by Michelle Sparks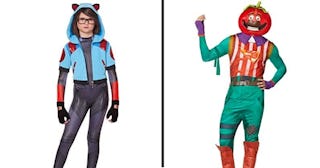 Amazon
If you're here, then you're most likely already familiar with Fortnite. Fortnite is the crazy popular video game that first took off back in 2018 and is still played by thousands of gamers who are addicted (or, as we like to say, passionately dedicated) to saving the world from zombies and earth-shattering storms. Since Halloween is coming up, many have been thinking about ways to fuse their love for Fortnite/video games and October 31.
If you or your child are one of Fortnite's many fans, you can take your obsession to the next level (pun intended!) this Halloween with a costume inspired by your favorite skin or character. Below are some of the most popular Fortnite Halloween costumes you can buy online for both kids and adults, including the ever-popular Zoey, the dark and dangerous Black Knight, and the classic Skull Trooper. The only catch? It requires you pausing your Nintendo Switch for a moment while you click "Add to Cart."
Boys' Fortnite Costumes
Girls' Fortnite Costumes
Adult Fortnite Costumes
Looking for more fright night fashion ideas? Shop all of our favorite Halloween costumes (for kids and adults!).