Every 'Friends' Fanatic Needs This Adorable Merch
by Amanda Davis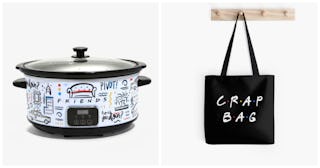 BoxLunch / Redbubble
Brace yourselves Friends fans – you're gonna need all of this merchandise
Friends has been off the air for fifteen years now, which means that we've all resorted to copious amounts of Netflix binging. If you have a fanatic in your life (or are the fanatic yourself), there is no way more Friends merch isn't needed. From Joey's classic "How You Doin!?", to Ross' excessive nagging about being on a break (which means nothing, by the way). Almost every episode has a memorable moment that a fan of the show would want to hold onto. In short: you cannot pass up these amazing Friends TV show gifts!
With this list of the best Friends themed gift ideas, your search for presents for your Friends obsessed bestie is over. Especially if they (or you) are craving even more Chandler, Joey, Ross, Monica, Rachel, and Phoebe in your life – never fear. There's plenty of very cute Friends TV show merch out there to satisfy all of your Central Perk needs. So pivot on over and check out the list of gifts for Friends fans.
Now go rewatch the show for the one millionth time. I don't have Unagi or anything, but I'm gonna guess that it'll be a really, really good time.