This Magical Interactive FurReal Unicorn Is Over $60 Off For A Few More Hours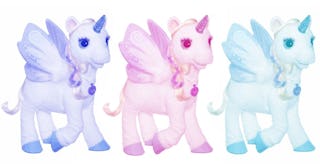 StarLily, a lovable and insanely popular interactive unicorn, can be yours today at a price that's almost impossible to resist. One of kids' favorite FurReal Pets, StarLily usually will run you around $120.00. Today, thanks to Amazon Prime Day, she's only $53.16.
StarLily lives in an enchanted forest, and she uses sound and motion to communicate with kiddos. She responds to voice and touch, and she features over 100 sound-and-motion combinations. She's cute, stylish, has great hair, and she's so musical, too! Her light-up horn will flash different colors and she will literally start to wiggle and dance when her favorite music comes on.
RELATED: Kids Are So Expensive Which Is Why We're Shopping These Amazon Prime Day Toy Deals
It's a huge deal for kids (ages four and up) when they get to unwrap such a mystical creature. Make a little one happy and make your wallet even happier by taking advantage of this Amazon Prime Day deal before she goes out of stock!
Read More:
We Will Be Your Shopping Assistants For Prime Day 2019
These Are The Amazon Prime Day Deals Of 2019 Moms Are Going Crazy For
Prime Day Tech Deals Are No Joke And We're Finding All Of Them
Our mom experts only recommend picks they really love. We may earn a commission on purchases made through links from our site, but if we love it, we know you'll love it. And we Scary Mommies gotta stick together.
This article was originally published on