Everything You Need To Binge 'Game of Thrones' Season 8 Like A Boss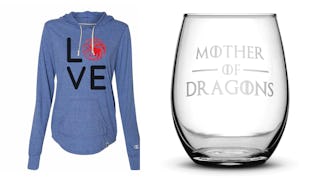 Walmart
If you're needing a GoT fix while waiting for Season 8, we've got you covered.
It's been a long, cold winter waiting for the eighth and final season of Game of Thrones, but we are nearly there. Whether you're patiently waiting for Season 8 or just beginning the series adored by millions, we've got everything you need to binge to your heart's content. Order some takeout and grab your favorite drink, because we've got the rest covered.
We all have that one friend who hasn't seen it because they don't have HBO. Gift them the entire series on DVD or Blu-ray so they can join you in your obsession before the new season starts.
This 2-piece men's pajama set is obviously perfect, because pajamas. (And also, because we can get it for him, then steal it for ourselves.)
These themed playing cards are perfect for a little pre-Gaming. (See what we did there?)
Need something to sip from? We got you with this etched stemless wine glass.
Wrap yourself in this fleece throw blanket and let the Games begin!
You know it was a book first, right? This box set features the first five books in the series.
This shirt is accurate on so many levels.
These dragon egg candles are perfect for a little medieval ambiance.
You need this jewelry set, for when you're in a business meeting, but your heart is in Westeros.
You can use this mug for beer, wine, coffee, or apple juice (because kids).
You'll want these coasters so you'll have a place to set your GoT glasses.
Are we certain a mom didn't say this first?
So you can drink, know things, and own all of Westeros.
There's no such things as too many comfy hoodies, especially this one which comes in blue, grey, or pink.
Now, cover your body in GoT, sip from your Mother of Dragons glass, and let the Games begin!
We may earn fees from purchases made via links on this page and affiliated sites. All opinions are our own.
This article was originally published on