47 Gifts Your Girlfriend Will Actually Be Impressed With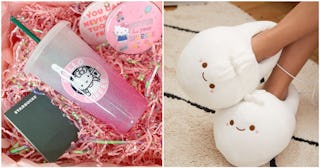 Etsy/Urban Outfitters
If you're in the market to buy a gift for your girlfriend, whether it's her birthday, your anniversary or the holidays, you know one thing: you've got to get this gift right. So hopefully you've been paying close attention to her subtle (and not-so-subtle) hints over the last few months—if you're convinced that she hasn't sent a single clue in your general direction, you're most likely mistaken.
If there's one thing a woman knows for sure it's what she wants. And, chances are, she wants you to get it for her (or, at the very least, wouldn't mind if you did). So don't f*ck this up. This is your chance to really wow your girlfriend with a gift that not only shows her you care, but shows her that you know her—that you know what she wants, what she likes and what would make her life easier, more joyful, more fun (you get the idea).
As you brainstorm gifts for your girlfriend no matter the occasion, we're here to help. Here are some of the best gifts for the lovely lady in your life who deserves nothing but the very best.
Cute Gifts for Your Girlfriend
Thoughtful Gifts for Your Girlfriend
Unique Gifts for Your Girlfriend
Romantic Gifts for Your Girlfriend
Romantic Birthday Gifts for Your Girlfriend
Need more present-giving inspo? Check out our gift guides here!