27 Gifts The Writers In Your Life Will Actually Use
by Rachel Aschenbrand-Robinson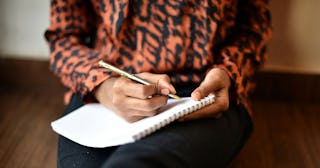 Getty Images/Mayur Kakade
Gift shopping can be tricky no matter who you're buying for, but coming up with clever, creative, and/or useful gift ideas for writers can really throw you for a loop. There's an extra level of pressure that comes with this kind of purchase: You don't want to come off as uninspired, especially with someone whose job/passion is all about inspiration. There's also the fact that writers can be very particular about their writing tools and their processes. All pens are not created equal. Not every writer works at a home office every day. Some need help with organization, others want editing and grammar aids before they turn in drafts.
Plus, the type of writing they're doing also factors in: Screenwriters, playwrights, authors, and online writers often work very differently. In short: Gift accordingly!
It helps to know as much about your recipient as possible, but if you're unsure as to their specific preferences or you just want to pick up a small token that will actually be appreciated, we've come up with a handy list. Ahead, we've collected the best gifts for writers, and aspiring writers, so you can find the perfect pick for the storyteller in your life.
Gift Ideas for Writers
Gifts for Aspiring Writers
Found the best gifts for the writer in your life? Brilliant! To check off the rest of your list, shop our Gift Guides!