On A Budget? These Gifts Are Under $20 And You'd Never Know It
by Steph Osmanski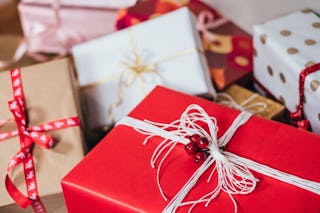 Pexels
It's no secret we don't all have the dollar-dollar bills that say, Justin Bieber or Kylie Jenner have. And while we may all love to fantasize about what it'd be like to be gifted a f*cking Maserati or, I don't know, say $100,000 worth in red roses, it's just that: a fantasy.
Sure, a girl can dream, but a girl might also be on a budget, too. If your wallet is tighter than the Botoxed lips of a Kardashian friend who just signed an NDA, then don't stress. There are still some amazing gifts you can give this holiday season — without breaking the bank and putting yourself in debt.
Looking to drop a $20 bill on? Keep reading for the best gifts under twenty bucks.
THERE'S A SALVE FOR THAT
Who is it in your life that deserves to be pampered from head to toe? Whether it's your sister, your wife, your mom-friend, or hey, even your hubby, this gift set from Burt's Bees is the ultimate luxury. It includes five travel size BB favorites: a Soap Bark and Chamomile Deep Cleansing Cream, Hand Salve, Milk & Honey Body Lotion, Coconut Foot Cream, and Beeswax Lip Balm. No dry, cracked skin here!
BELIEVE IN GOLD
For your mom-friend who needs a constant reminder in faith or a confidence pick-me-up, we love this Believe gold bracelet. Not only is under $20, but it's elegant and timeless and supports the children at St. Jude Children's Research Hospital.
WHAT'S THE TEA?
If your mom-friend loves tea — the looseleaf, drank-before-bedtime kind or even the juicy gossip kind — Tea Drops is the perfect gift for someone who appreciates a warm cuppa. These teas are produced with genuine tea leaves that are delicately ground and pressed together with just tea and raw sugar — no other additives. The standard tea sampler includes a total of eight tea drops: two Energizing Matcha Green Teas, two Calming Rose Earl Grey, two Refreshing Citrus Ginger, and two Cooling Sweet Peppermint. Plus, there's more, tea lovers: You'll save 10% on each qualifying Tea Drops items when you purchase two or more; so one for your friend, two for you!
THE TECHIEST BEANIE EVER
AirPods, shmair shpods. This beanie isn't just stylish, it also has Bluetooth capabilities so you can continue your phone conversations and your Spotify playlist even as you walk through the brisk cold. With a large battery capacity (it works anywhere from 16 to 20 hours), you won't have to worry about the sound cutting in and out or the volume being too low. This hat keeps you warm with its soft, double-knit material and also keeps the jams playing without any interference.
STARLIGHT, STAR BRIGHT
Constellations are totally having a moment right now and if you have a mom-friend (or a sister or a daughter or whoever) who is always on the pulse of what's "in," she'll love that this necklace is both in style and handmade. Made with stainless steel charm and either gold or rose gold plated, the Cassiopeia Constellation Necklace is a beautiful, handmade reminder of how small we are in the scope of the universe.
PIMP OUT YOUR PODS
Got a friend that's still an Apple brand whore? (Don't blame that!) Support their Apple product addiction by buying them a cool accessory for their Pods. Since the AirPods only come in white, you can help her add a little color with this case made of 100% food-grade protective silicone. You can pick from an assortment of colors and these covers literally just slip on over the AirPods case. Cute, colorful, and if your friend is feeling clumsy and drops them, she'll be reassured they won't break thanks to the protective silicone cover.
CANDY WITH A CONSCIENCE
Lollipops might not seem like a great gift but when you think about what these lollipops give even after they're gone, it really is incredible. After sucking on one of these lollies, you can actually plant them in the ground. Yep, you read that right! These lollies are truly nature's candy as once planted in some soil, they grow into either flowers or herbs. Now that's some farm to table sh*t, am I right?!
WASH YOUR FACE, MAN
Man in your life? We have gift ideas for those, too! Disco is a new skin and body care brand for men and we especially love Disco's Face Cleanser Stick in eucalyptus. It's no mess, no stress, and travel-friendly if bae is an on-the-go kind of guy. Way less messy than a liquid cleanser, the activated charcoal in this face stick acts like a magnet for toxins, giving your beau an extra deep clean. It's practical, it smells good, and it'll do wonders for his skin. Trust us — he'll thank you.
HAND-CRAFTED AND OH SO CUTE
Get ready to become absolutely obsessed with Klae Designs Co. because literally all of their handcrafted jewelry is to-die-for. Made from clay in small batches, the Mustard Floral Piper earrings are the perfect showstopping detail to add to any outfit. Bold but still a staple, these earrings will be a conversation piece when your mom-friend unwraps them and every day after.
DEAR DIARY…
Journaling is good for the soul! In fact, tons of people even consider it a form of meditation. Whether you've got a meditation-obsessed friend or a gal pal you think could benefit from a little chill-out sesh, everyone can benefit from writing down their thoughts and what they're grateful for.
Related: These Gifts Under $10 Won't Make You Look Like The Cheap Friend You Are
This article was originally published on