These 'Golden Girls' Ornaments Are All Your Christmas Tree Needs This Year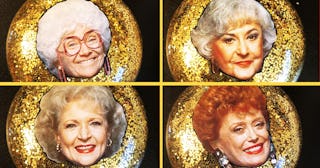 barrelbits/Etsy
All of our fav 'Golden Girls' are decking the halls this year
Any time of the year is a good time of year to celebrate the Golden Girls. There are Golden Girls prayer candles, Halloween costumes, even an entire cruise ship honoring the lady legends. With the holidays quickly approaching, one Etsy shop owner is blessing the world with one more way to get every square inch of Blanche, Sophia, Rose, and Dorothy in your homes — Christmas tree ornaments.
Etsy shop, Barrelbits, has gone where no one has gone before and put the heads of these gorgeous ladies on Christmas ornaments filled with glitter. They are three inches of hand-blown glass perfection with images of each Golden Girl on the outside. According to the website, they are "preserved with a clear sealant over the outside for a lasting and protective finish."
Fans have been in love with these four since the show first aired in 1985. During its eight-year run, people began to see themselves in one of the characters, dreaming of someday being able to live with their BFF's in a retirement community and enter into the shenanigans of old age, Miami-style. Now, with the show being aired on Hulu, YouTube, and Amazon, new generations of fans have grown to love them, too. As they should.
Depending on your fav, you can decide which one has front and center stage on your tree this year:
If, for some unknown and completely irrational reason, you don't love the Golden Girls, there are still some seriously adorable ornaments for you. The shop owners are also selling The Wizard of Oz-themed baubles featuring Dorothy (and Toto of course), The Wicked Witch, Glinda, Scarecrow, Tin Man, and the Lion set amongst green glitter, leaving everyone who sees them searching for the Yellow Brick Road.
Still not sold? Check out these Star Trek ornaments. Who doesn't want Scotty, Spock, Captain Kirk, Uhura, and Sulu jingling their bells this holiday season?
We all have our fair share of ornaments gifted to us by family and friends, mixed amongst our kids' homemade decorations which we'll (of course) cherish forever and ever. But these are the perfect pieces for the pop culture fan inside us — and they're affordable as well. The Golden Girls and Oz sets sell for $25 plus shipping, which is a small price to pay for these mugs appearing on the tree. Star Trek comes in at $32 (for six). But if you're just looking for a single ornament for you or a friend, check out their Peanuts options.
These adorable ornaments sell for $10 each and have cellophane inside, featuring everyone's favorites, Snoopy and Woodstock on the outside. Or, if you need all four — they've got you covered.
For any of the above, they ship within three to five business days, so get to shopping and have these puppies at your door right in time to put your tree up (hint: next week).
This article was originally published on