Wrap All Your BFF's Gifts With This Golden Girls Wrapping Paper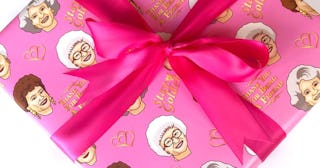 OLIVIASSweetsCookies/Etsy
Thank her for being a friend with this glorious Golden Girls wrapping paper
Is there any better theme for life-long friendship than The Golden Girls? They laughed, they loved, they co-habited and always put each other before men and anything else happening in their lives. They're totally BFF goals, and that's why along with every Golden Girls-themed gift we can find, we're wrapping up pressies for our favorite lady friends in a variety of extremely cute wrapping paper adorned with the best crew of all time.
Come on. Those faces smiling up at you — Sophia, Dorothy, Blanche, Rose — all just super pumped to be covering the gift you so thoughtfully chose for your own ride-or-die. The bright pink is simply perfect for those super girly gifts.
Or maybe you want to go a little more subtle with your Golden Girls vibe while also featuring their beloved cheesecake. Maybe you even use this one to wrap an actual cheesecake. So meta.
What about this sort of comic book vibe? Your friend could open her gift carefully and color it in later. You're never too old for that brand of fun IMO.
This pop art design features what's probably the most accurate renditions of their faces, and honestly, you could cut out a square and frame it as decor. It's that adorable.
What could possibly be more festive than Sophia wearing a Rudolph nose and antlers? Absolutely nothing, that's what. The other designs work year-round but this paper is special with its groves of "Shady Pines" Christmas trees.
It's a golden (lol, see what we did there?) time to be a fan of the four Miami ladies who graced TV screens with their total brilliance back in the day, and now, through binge-watching each season. There's so much GG merch out there you have quite a selection to choose from. May we suggest the prayer candles? How about the hot sauce collection? The holidays are here, so maybe their version of "'Twas The Night Before Christmas" needs a place on your bookshelf. Game night coming up? Golden Girls Monopoly or Clue has you covered. Or just throw a party where you invited everyone you knew and everyone dresses as their #1 lady.
Bottom line, there's no shortage of fun swag celebrating our favorite sassy seniors, and now, you can wrap those gifts in paper that celebrates them too.
This article was originally published on