GoldieBlox's New DIY Kits Are A Kid's Dream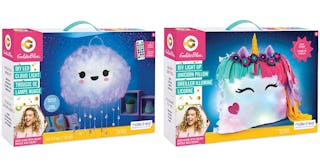 GoldieBlox
GoldieBlox has new DIY kits and subscription boxes that your kids will love
If you have a girl who's shown interest in STEM (Science, Technology, Engineering and Math) you are no doubt familiar with GoldieBlox. The innovative brand's toys use storytelling and STEM principles, all geared toward empowering girls and building their confidence. Now, the company has a new product line of DIY maker kits that allow kids to create their own useful (and adorable) objects. Spoiler alert: they look ridiculously fun.
The new DIY items are available now through Amazon, Target, JOANN, and BJ's, and are manufactured by creativity innovators Make it Real. The kits provide handy Hack and Facts cards that explain the science behind the crafts along with all the materials needed to create it. Check out this Light Up Unicorn Pillow that I would like to make with my daughter ASAP.
All those materials end in a pretty fantastic result.
The sets are inspired by the brand's popular YouTube show, Hack Along with Goldie, where kids can follow instructions to make a huge variety of items including bath bombs, edible glitter, slime, and tons more. Now, the DIY fun is contained in a box and easy for kiddos to do. Check out this LED Cloud Light. "Kids can craft their own smiling cloud lamp that changes colors, while learning about the eco-friendly factors of the LED lights that power it," they explain.
Talk about cute room decor — and your girl will have the satisfaction of knowing she made it.
These Unicorn Headphones are simply too much and also, we would like to make and wear them ourselves if adults are allowed.
Stop it. These are too cute to even be real.
How about a DIY Scratch-Art Starlight Projector for your kiddo who wants to know more about constellations? Not to mention, a pretty light show before drifting off sounds like the coolest way to fall asleep.
Speaking of sleep, my personal favorite is the DIY Slumber Party Kit that comes with everything needed to have an extremely memorable sleepover.
"With this comprehensive sleepover kit, makers can invite their friends over and build their own movie projector complete with speaker! The kit also comes with eye masks, popcorn and goodie bags." Um, sign us up.
The kits are a super fun way for girls to exercise their STEM muscles while creating something fun that they can be proud of.
And if the DIY kits sound like something she will be into, then get a load of their new subscription box called the GoldieBlox Box. It's available exclusively at JOANN.
The boxes will be priced per month, and can be purchased individually for $24.99 or as part of a 3-month ($24.99 per box) or 6-month ($19.99 per box) subscription.
CEO and Founder of GoldieBlox Debbie Sterling says the new line combines STEM with crafts kids want to do anyway. "At GoldieBlox, we encourage girls to embrace the 'maker' in themselves and learn to have fun creating, whether that is through building and engineering, hacking their favorite toys and household objects, or designing something fun and beautiful through arts and crafts," said Sterling. "While most kids aren't going home and asking to build a belt drive, most of the arts and crafts projects that they already love doing involve STEM. These new maker kits allow kids to have fun while learning with a signature GoldieBlox twist."
Sterling tells Scary Mommy what motivated her to create GoldieBlox — and to keep on offering new ways for girls to learn and grow. "I was shocked by the lack of women in my engineering classes at Stanford and knew we needed to find a way to engage girls with STEM at a young age to empower them to build their confidence, dreams and ultimately, their futures," she shares. "As GoldieBlox has continued to evolve over the last 7 years, we've seen that kids love being able to hack and create. Our new products bring that passion for DIY to life, inviting kids to explore and enjoy the art of making. The process is about trial and error, about solving problems that arise or that you anticipate, seeing obstacles and figuring out how to navigate them."
At the end of the day, it's about having fun, but also, preparing girls for the future. "These same qualities are found in engineering," Sterling says. "Whether girls want to do this via pulleys and strings or arts and crafts, we at GoldieBlox support that."
This article was originally published on