Unleash The Power of Google Workplace With This Affordable Training Bundle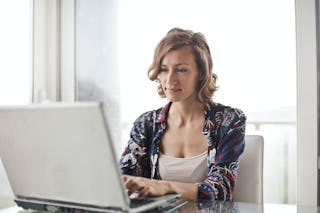 StackCommerce
Moms are excellent multitaskers. Just think how many things you do every day to get all the kids dressed, fed, and out the door each morning, while also completing your own morning routine! And when it comes to the workplace, any tool that makes life a little easier is widely welcomed. Google helps us a lot in daily life, from answering FAQs to housing our email. The fleet of Google Workspace Apps does just that, and The 2021 Ultimate Google Workplace Certification Bundle can get you up to speed on all of them. 11 courses on everything from Sheets, Trends, Apps Scripts, Analytics, and more are packed in this informative bundle, which is currently on sale for just $30.03. That's under $3 a course!
Kick things off with an education on Google Ads. Joshua George, an SEO Consultant and Expert with an impressive 4.8- out of 5-star instructor rating who founded ClickSlice, an SEO agency based in London, teaches Google Ads for Beginners 2020: Step-by-Step Process. This 4.8-star-rated course shows you how to set up and create a profitable Google Ads campaign from scratch, so you can implement it for professional or personal purposes.
Google Chat and Meet, the app that replaced and improved upon Google Hangouts, is next. Intellezy Trainers, a 4.4- out of 5-star-rated instructor, teaches Google Chat and Meet: Beginner, guiding you through all the steps of initiating, joining and scheduling meetings using chat and meet. Then, Alex Genadinik, an entrepreneur and a coach on business, SEOm and marketing, first shows you the ropes of Google Docs in Google Docs Part of G Suite: Learn Google Docs in 1 Day, where you'll master all the bells and whistles of Google Docs and gain the ability to use it for professional documents, resumes, cover letters, books, and more. He also teaches Google Slides Presentations: A Free Alternative to Microsoft PowerPoint, a course that shows you all the benefits of this totally free presentation app.
Master the world of Google Workplace from the comfort of your couch! Get the The 2021 Ultimate Google Workplace Certification Bundle for just $30.03 today.
This article was originally published on