Get a Salon-Quality Blowout At Home With This Dryer Brush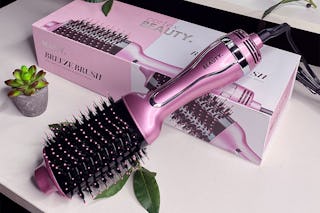 StackCommerce
When was the last time you got a blowout? Self-care means different things to different people, and during the pandemic, we've learned that taking time for yourself is more important than ever. If getting your hair styled is something you've really been missing over the last crazy year, maybe it's time to learn how to make your hair look fabulous at home. Though it sounds daunting, when you have the right tools, a professional-level blowout is easier than you'd think.
If you've never been able to master the way the pros hold the brush and dry your hair at the same time, it's time to meet the Cortex 1,200W Beauty Breeze Dryer Brush. It's packed with powerful drying power in the shape of a round brush, allowing you to style your hair with just one hand. Happy customer Sharon M. wrote, "The Cortex beauty breeze brush has been a dream come true! This dryer brush tames my long, unruly wavy hair and turns into the sleek style I want. No other styling tools are necessary…this does it all!" Right now, it's available for 80% off at just $49.99 for a limited time.
The Cortex Beauty Breeze Dryer Brush combines the necessary blow out tools of a round brush and a blow dryer in one, with gently curved sides that will smooth your hair while the round edges create volume and provide perfectly curled ends. Its ergonomic design provides comfort and even heat distribution, and the Ionic Technology ensures that your brush maintains a neutral charge on your hair's surface so it will look conditioned and smooth without annoying frizz or static.
Packed with two different speed settings and three heating settings, the Cortex Beauty Breeze Dryer Brush is flexible for different hair types. There's also a cool shot function, providing you the flexibility you need to get the blowout of your dreams at home.
Ditch the messy buns and give your hair some much needed TLC. The Cortex Beauty Breeze Dryer Brush is available now for just $49.99 for a limited time.
Prices subject to change.
This article was originally published on