Give Your Hair Some Much-Needed TLC With This Bundle Of Products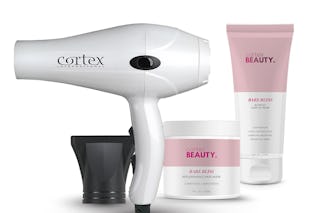 StackCommerce
Moms with messy buns, unite! With so much on our plates, it seems like getting ourselves ready ahead of a full day of watching the kids, helping with remote school, and getting our own work done is next to impossible… so topknot time it is. We know how hard it is to get in some self-care while continuing to keep our household going during these crazy times, but there are little things we can sneak into our daily routines to make sure we're feeling our best… or, as best as we can during a global pandemic.
If you can't remember the last time you got a haircut, much less a nice blow out, it might be time to pay your hair some much needed attention. The Cortex International Blow Dryer, Hair Mask and Leave-In Cream Bundle, which has been featured on The Wendy Williams Show, The Kelly Clarkson Show and Good Morning America, gives your tresses a little TLC and right now the whole set is available for 70% off at just $59.99 for a limited time.
The first step for loving on your hair a little bit: carve out a little "me-time" and apply the hair mask. It helps replenish and hydrate your poor neglected, dry, and damaged hair, giving it the moisture boost it's been needing for a while. Rinse it out and get ready to experience the magic of the Cortex blow dryer, which is equipped with ceramic tourmaline that seals in moisture while simultaneously cutting your drying time in half (because we know how precious every minute alone is!). The tourmaline technology's negative ions also work to condition your hair, leaving it looking healthier, glossier and frizz-free. It has a nine-foot cord that gives you flexibility to style your hair like a pro, and its ergonomic design means you won't have sore arms and wrists in the process.
Once your gorgeous locks are dry, apply the blowout leave-in cream and you'll get to ride out that beautiful blowout for up to four days. Yep, imagine the shock of your partner when you go four days bun-free. Aside from prolonging your precious blowout, the leave-in cream also improves your hair's moisture, elasticity, and shine.
Give your hair routine a serious upgrade with The Cortex International Blow Dryer, Hair Mask and Leave-In Cream Bundle. It's all available now for $59.99 for a limited time.
Prices subject to change.
This article was originally published on