You Can Now Buy Halloween Costumes For Your Guinea Pig
by Madison Vanderberg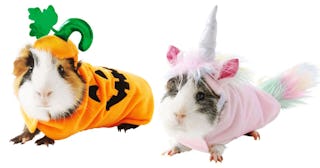 PetSmart
Dress the class guinea pig up in one of PetSmart's adorable and tiny Halloween costumes
For far too long, guinea pigs have gotten the short end of the stick when it comes to Halloween. Dogs and cats get to wear Halloween costumes every year, but guinea pigs have always had to sit Halloween night out. "Well, no more!" says PetSmart, which just unveiled a line of guinea pig Halloween costumes. Because your tiny pet should be able to masquerade with the rest of your furry family.
With more than two months until Halloween, PetSmart has already unveiled a line of guinea pig costumes all of which are less than $6.99 each.
Would you like to dress your guinea pig up like a shark?
How about a bumble bee?
Unicorn?
Or what about a pineapple?
There's also a tiny witch hat for $3.99 in case your piggy doesn't want to wear a full-body costume.
"This fun costume slips on and off easily and features adjustable Velcro straps for optimal comfort, and is a great way for your small pet to join in on all the Halloween fun," read the product descriptions for the costumes on PetSmart.com.
You could also dress your other small pets (i.e. gerbils and hamsters) up in said costumes, like this super tiny superhero costume. We're ready to get into fake peril in the hopes that he comes to our rescue.
With all the costumes, PetSmart warns that these outfits are only "intended to be used for a short duration, under close supervision" and to not "use for more than a few hours at a time."
The best thing about these Halloween costumes are the comments. One guinea pig owner lamented that other guinea pig costumes just didn't fit her little guy until she stumbled upon these PetSmart options.
"Put this outfit on my guinea pig and he looked soooo cute," wrote one commenter. "I have an Abissinian guinea pig so he has longer hair. I often run into the problem of costumes not fitting him because he has so much hair, but this costume fits perfectly!"
Ugh, don't you hate it when your long-haired guinea pigs don't fit into costumes? Hate that.
The guinea pig-loving community is very enthusiastic about the news.
The costumes were created by Thrills & Chills (who make excellent doggo costumes as well) and are available exclusively at PetSmart, though if you can't find what you need at the giant retailer — there's always Etsy.
Even if you don't have a guinea pig (or hamster, rat, or gerbil) — we hope this parade of guinea pigs dressed up for Halloween has made your day. You can find the costumes online or in PetSmart stores now.
This article was originally published on