22 Magical 'Harry Potter' Gifts For The Grown-Up Muggles In Your Life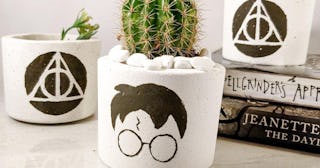 Etsy
No wonder you're looking for Harry Potter gifts to give others (and yourself) this year. We all need a little bit of magic and nostalgia in our lives this year of all years. If you grew up as a kid or teen reading the Harry Potter series, then there will always be a special place in your heart for Harry & Co. Above all, Harry Potter was a story about friendship, belonging, loyalty, and love. It's a story we've gone back to again and again, years after reading or watching the film adaptation (raise your hand if you waited all year for the Harry Potter ABC Family marathon which usually aired around college finals week). And now, as grownups, we're probably introducing our own little wizards- and witches-in-training to the series.
And PS: Yes, we know JK Rowling said some incredibly damaging and thoughtless words about the trans community. Here at Scary Mommy, we do not condone that kind of behavior, and feel like it's exactly the kind of statement the author's very own heroic, honorable characters would never dream of standing behind.
Whether you're shopping for friends, family, or for yourself, here are some magical Harry Potter gifts to get this year.
Best Harry Potter gifts for adults
Unique Harry Potter gifts
Best Harry Potter Christmas gifts