Pottery Barn Has A New Harry Potter Holiday Collection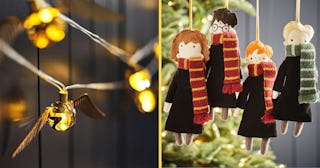 PB Teen
A Harry Potter themed holiday dinner table? Pottery Barn has made it completely possible
Some of the most magical scenes in the Harry Potter series took place around the holidays, when the already magical setting at Hogwarts was transformed into a glowing, glistening, snowy wonderland complete with floating candles, festive decor, and delicious holiday food. It's a warm and inviting scene that anyone would want in their own home for the holiday, and thanks to Pottery Barn, you now can. The store just released its 2019 HP holiday collection, complete with everything you need to turn your home into a festive Great Hall.
Seriously, there are decor and tableware items for everyone in this collection, whether you wear your love for Harry Potter on your sleeve, or you're a more casual fan and just want a touch of magic added to your holiday decor.
For example, check out this Deathly Hallows ornament, which will add a little Harry Potter love to your tree while also blending in with any festive color scheme that includes gold.
Or these string lights, each of which is a tiny, glittering golden snitch.
If you have a mantle to decorate, what would look better there than this festive "Happy Christmas" garland?
And when you're sipping egg nog, wassail, or, you know, something stronger to get in the holiday cheer, you can do it out of these mugs that sport the Hogwarts holiday crest.
When you set your dining table for a big holiday feast, you can include these Hogwarts house-themed cloth napkins for an extra fancy touch.
And if you want to absolutely blow your holiday guests' minds, buy a set of these floating candles, which look just like the ones in the real Great Hall and obviously possess some kind of real magic because they actually float.
When you gather after dinner to have some post-feast cocktails, why not sip them out of these gold-rimmed tumblers, which are also adorned with the Hogwarts holiday crest?
Pair those drinks with some light, after-dinner snacks served out of this golden snitch snack bowl.
While you're celebrating, your favorite foursome from your favorite books and movies can watch over the festivities and make sure any dark magic stays far away from your house, if you hang this set of Hermione, Harry, Ron, and Draco ornaments on your tree.
And when you hang the stockings by the chimney with care, make sure each member of your family has one with his or her Harry Potter house crest on it. There's Gryffindor:
And Hufflepuff, of course:
All of these items are available right now online and in Pottery Barn stores, so if you want to get a jump on your holiday spirit this year, we suggest starting there.
This article was originally published on