You Need These Tiny And Adorable 'Harry Potter' Christmas Tree Ornaments
by Madison Vanderberg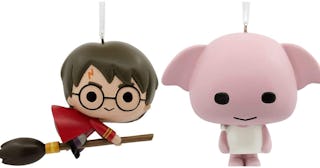 Hallmark/Amazon
Hallmarks new Harry Potter ornaments are tiny, cute, and festive
Harry Potter is a year-round and lifelong obsession, but Harry Potter during the holidays is extra special. Maybe it's because we're trying to conjure the spirit of Hogwart's Great Hall in the winter, or we wish we could attend the Yule Ball, or it's because those Gryffindor scarves are especially cozy — whatever the case, Harry Potter stuff is best during the holidays and because of that, you need these Harry Potter ornaments in your life.
This adorable collection comes from Hallmark Ornaments, via Amazon, and because these ornaments are only three inches tall and totally cute, they have a sort of Funko Pop-inspired vibe. The following "Quidditch" collection features Harry ($14.99), Ron ($8.99), or Hermione ($8.99), all riding on broomsticks, which is funny because Hermione barely flies on a broom ever in the series and doesn't even really like flying, but I'm being annoying — tiny Hermione looks adorable on her ornament broom.
If you don't want to spring for the Harry Potter broomstick ornaments, there's one of Harry by himself for only $7.64, and bonus, it's available for Amazon Prime one-day shipping.
However, our absolute favorite ornaments are the Hedwig ($9.00) and Doby the House Elf ($9.00) pieces, because oh my god — will you just look at them!?
Doby looks a little like a pig and we can't get enough.
And Hedwig looks very upset, but who can tell with owls, right?
Amazon listed the Potter broomstick collection on its 2019 roundup for Trending Gifts and one very excited commenter wrote that it's "very cute" and "exactly as shown." However, Hallmark Ornaments makes all sorts of cutie-pie Harry Potter-based tree trimmings. They do offer slightly more lifelike figures of the infamous Hogwarts trio, but Hallmark also has fun ornaments like this "Harry Potter Mystery Blind Box," which is basically a grab bag, for ornaments. For only $3.99, if you order the "Mystery Blind Box," you'll receive a foil pack featuring one of the following six Harry Potter figures, but the fun is that you don't know which one it is until you open it. Much like the sweet Quidditch collection, this collection even makes Voldemort look cute.
If tiny Harry Potter characters with big oval heads is up your alley, try the 24-piece Funko advent calendar. Each day contains a new character from the beloved books and each collectible character is dressed like they're on their way to the Yule Ball. The Funko advent calendar is only $37.99, which is a steal for 24 character pieces.
It isn't really Christmas until you've brewed some butterbeer, watched Harry Potter and the Goblet of Fire for the umpteenth time, and trimmed your trees with teeny tiny Potter figurines.
This article was originally published on