This Watch Tracks Health Metrics Without Breaking The Bank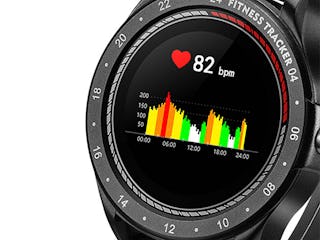 StackCommerce
It's difficult to keep track of your daily activity when 75 percent of it is chasing a toddler around the house or carrying a scooter home because your kid who was desperate to ride it 20 minutes ago suddenly changed their mind seven blocks away from the house. If you want to start keeping track of your activity but don't want to splurge, give this Sinji Premium Smart Watch a try— it's 50 percent off today and under $50.
You may be burning more calories than you realize every day loading a kid in and out of a car seat, or maybe you're consuming more than you think every time you clean off your kid's leftovers— either way, the Sinji Premium Smart Watch can help you track both. A large 1.18-inch touchscreen will display features like a pedometer, calorie consumption tracker, and can even display messages from WhatsApp to make monitoring your health easily integrated into your life— even as a busy parent.
Unlike some of the more expensive smartwatch competitors, you won't be nervous about wearing this Sinji model around the kids. It has a comfortable wristband and moderate price tag that'll give you all the features you need without the fear of splashing it during bath time (it has a waterproof rating of IP67). It's even a sleek black so styling it is equally easy.
When it's time for a charge, fueling up the Sinji Premium Smart Watch is as easy as charging your phone. Open the paired app on your phone while it charges and review details like your heart rate, body temperature, and more.
Get your own Sinji Premium Smart Watch while the multifunctional wearable is 50 percent off today. Get yours for just $49.95 for a limited time.
Prices subject to change.
This article was originally published on