An Outdoor Heated Kitty House Exists To Keep Your Cat Nice And Toasty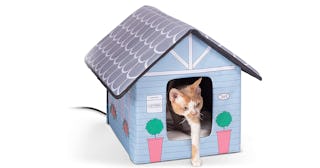 Amazon
Who says dogs are the only pets who get their own houses? Cats like to stay warm, too, and if you have a catto who solely lives outdoors, or one who likes to go outside whenever they please, you might want to give them this little heated house as an option. Even if you just happen to live in a neighborhood that has a lot of wandering outdoor, feral cats, this home provides shelter for when it rains or snows. Cats are tough and all, but all of us like a little luxe treatment every now and then.
This heated cat home features a 20 watt plush heated bed inside, and you turn it on by simply plugging the 5.5-foot cord into an outlet (you may need an extension cord or weather-proof surge protector if you don't have exterior outlets). The house offers two entry ways and door flaps you can remove if you want, but they're there to protect your cat from cold temps and weather conditions. Plus, the heated bed comes with a pad cover that you can remove and wash if you need to (more like have to, since cats like to keep clean thankyouverymuch).
The functionality and safety has been tested (and certified) by MET Labs (and the heating tech exceeds all electrical safety standards in the US), if you're concerned about your cat's well being. Even if your kitty is an indoor cat, you can still provide them with this cozy nook as an option. It comes in olive and "cottage design," as well as a one-year warranty. You can also purchase the house without heating if you prefer.
"As most reviewers have mentioned, this house was easy to put together and we were impressed with the quality. We ordered the heated pad with the house. We've been feeding a feral female cat for two years, and have made some progress getting her to trust us (within 3 feet now without fleeing). We wondered how'd she take to this new feature. We placed the house on our sunny front porch, and at first, did not put the plastic flaps, which easily velcro on and off. We put some special treats inside and she'd go in and then go right out. We kept it up, adding treats every day. One morning, we saw her coming out of the house. She had obviously spent the night, and as it got a little colder, we'd peek out there and she wouldn't scoot and run, but stay where it was warm and cozy," one Amazon reviewer wrote.
Another customer left a glowing review, stating, "We are THRILLED with our outdoor kitty house. A couple of years ago a feral cat named Emmett adopted us. As we bonded he eventually spent more time inside our home, However, Emmett still has a need to spend time outdoors; and there are times we have to be gone for several days which means he stays outdoors. Since Minnesota winters can be bitterly cold we knew we needed a way for Emmett to find shelter. We discovered the outdoor kitty house on Amazon and we believe it is one of the best purchases we have ever made. Emmett instinctively knew it was his new home and went in without coaxing. Now when we look for Emmett, chances are he can be found sleeping in his secure, heated home."
With over 5,700 5-star reviews, it's safe to say that we're buying one these cozy cat cottages right meow.