These Sheets Have Over 170k 5-Star Reviews — And They're 45% Off Right Now, Pre-Prime Day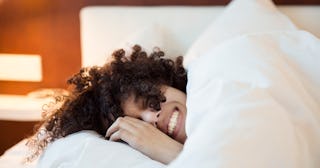 Getty Images/Manuela
Sale alert! The internet-famous bed sheets with thousands of 5-star (over 170,000 to be more exact) glowing reviews are on super sale pre-Prime Day. And we're just sayin'…before the rush and chaos of Prime Day starts, you should probably just low-key snag them now.
It's been a while since we were actively looking to impress visitors with our bedroom decor and truth be told, at this point in our lives, shopping for bedsheets happens way less frequently than it should. (#holeysheetbatman) Finding quality sheets at a good price point is super difficult — do you settle on softness or mortgage your house to pay for a high-thread count that feels as good as it looks?
Consider these Mellanni Bed Sheets the unicorn you've been searching for. But don't take our word for it. 170k+ positive reviewers on Amazon are getting the sleep of their lives on these brushed microfiber sheets that feel luxurious but are available for a fraction of what you'd expect. This queen-size luxury 4-piece set comes with 1 flat sheet, 1 fitted sheet, 2 pillowcases, and a deep pocket-fitted sheets with elastic around to ensure it doesn't pop off in the middle of the night (because, annoying). It's fade, stain, shrink, and wrinkle-proof (just make sure to machine wash cold).
This review (and there are thousands) says it all:
"Here's the thing…this isn't the first time I've purchased Mellanni sheets. Why, you may ask? Simply put, because it's a great product. If it's such a great product, why do you keep ordering it? Are they not holding up? Honestly, I can be pretty rough on my sheets. When I am not in bed whilst drinking wine and reading a book or doing some online shopping, my dog (who I insist is part kangaroo) spends her day lounging amidst my bedding, jumping on and off of my bed about three dozen times. Between her ever-sharp claws and how often I launder my bedding, they have yet to exhibit any signs of wear or loss of colorfastness. Every bed in my home is laden with these sheets – when you find something you like, buy one in every color; at least that's what they told me. These sheets are great because they are soft, light, and most importantly they breathe. Sheets that don't breathe are like the time you accidentally threw away that contract and had to go dumpster diving and came out smelling like hot, sweaty garbage. Lord knows what's growing in there."
Sweet dreams, readers.
This article was originally published on