Grab These Highly-Reviewed Bras On Sale At Nordstrom Now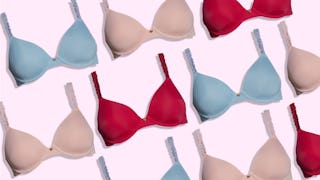 Did you know that after two years, your bras start to wear out to the point of not being functional? If what you're wearing feels stretched out and less supportive, it's time to invest in some new under things. Perfect timing, Mama. This Nordstrom sale will have your girls feeling lifted and loved in no time.
Recent review: "BEAUTIFUL, is all I can say. Soft, wonderful material that makes you feel sexy. It's wonderful to finally have a bra that doesn't swallow up my chest w/unnecessary coverage…I definitely plan to stay with this brand!"
40% OFF (was $68)
Recent review: "Wonderful bra for me. Wires hurt my ribs. This bra is constructed so well that it ives a better uplift than an underwire bra. Wacoal makes great bras. They seem to really understand a woman. The quality in this gently molded bra (that does all the work) washes in the machine and holds up beautifully."
40% OFF (was $65)
Recent review: "The most comfortable bra I've ever owned! 32C fit like a dream without leaving any marks or digging into my shoulders."
40% OFF (was $72)
Recent review: "This is the BEST bra I've ever owned, I am a 38 DDD and this fits perfectly! I love the lace detailing,. The straps don't slip and the underwire doesn't hurt! I have two each in black, nude, and ivory! Best bra for large busted women EVER!!!!!"
40% OFF (was $88)
Recent review: "Love Elomi bras, and in particular, the Cate is my all-time favorite. Every time I visit Nordies' site to re-purchase, I pray Elomi has not discontinued the Cate. Looks-wise, the Cate is very feminine, especially on. Quality-wise, unlike other good makers' bras, the elastic in the straps and the wings (the part that goes around a woman's back) do not give or wear out; and the underwire does not eventually pop out of its channel as with other bras at this price point."
40% OFF (was $59)
Although we only recommend picks we really love, we may earn a commission on purchases made through links from our site.
This article was originally published on