Dope Gifts For The Hipster New Dad In Your Life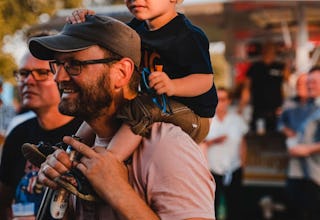 Pexels
Dads can be difficult to shop for. Hipster dads can be even more difficult to shop for, because… hipsters. But don't worry, we've got you covered. Here are perfect/rad/far out/bomb/dope gifts for the hipster new dad in your life.
There is no such thing as a hipster who isn't proud of his facial hair. Get him this grooming kit, so the baby can grab and pull on a well-groomed beard.
This is possibly one of the hottest dad gifts of the season. Truths, hacks, and dad-isms fill the pages of this new release from the editors of The Dad. The book is loaded with content, but it's pocket-sized. (Well, cargo pocket-sized). Definitely hipster-approved.
If the new dad in your life is an outdoor type (oh wait, he's a hipster…so he is), this cross-country bag is a must-have. This sucker is an amazing way to still get out into nature while being a supportive father. Two for one, people.
If the dad you're shopping for is a fan of Scotch, these ice spheres provide a classy version of his favorite pour on the rocks. They melt slower and keep his drink cold without watering it down as fast as ice cubes would. Name a hipster who doesn't like whiskey… or act like they do.
How will he soothe that new baby to sleep? With vinyl of course.
New parents need all the coffee they can get, and every hipster knows coffee tastes best when it's in a trendy gadget like this.
His baby must be as well-groomed as his beard. This kit will help. It's wooden, duh.
Related: The Ultimate Holiday Gift Guide
This article was originally published on