'Hocus Pocus' Gifts For Your Entire Squad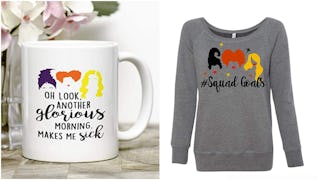 Image via Amazon
Get ready to channel the ultimate spirit of Halloween with these Hocus Pocus gifts
If you haven't started prepping for Halloween, let me give you a suggested to-do list. Buy candy corn in bulk, figure out the least time-consuming costumes, and re-watch Hocus Pocus for the one millionth time (that one is mandatory). Want to take it to a whole other level? Amazon is selling a bunch of Hocus Pocus-themed goodies and they're pure 90's magic. Salem, here we come.
Okay, so maybe you don't really feel like throwing on a witch's hat when you give out candy this year. You can, however, channel the Halloween spirit with this very cute t-shirt that features colorful drawings of the Sanderson Sisters. Winifred would definitely approve.
Speaking of Winifred, you should definitely be drinking your coffee out of this adorable mug featuring the Hocus Pocus quote: "Oh look, another glorious morning. Makes me sick." Hey, some days you wake up feeling happy-go-lucky. Other days you just need everybody to go away (except Bette Midler…she can stick around).
Before there was Carrie, Miranda, Charlotte, and Samantha, there was Winifred, Sarah, and Mary. They were the ultimate squad goals and could do evil witchcraft to boot. Give this one to the Sarah in your life.
Okay, while we're on the subject of squad goals, can you please turn your attention to this super comfy sweater? It's got all the best gals on it.
Why yes, you will put an evil spell on anyone who doesn't put a damn coaster under their drink.
Is there anything quite as epic as Bette Midler singing "I Put A Spell On You"? This tote bag should be given to a friend who needs a little boost of 90's magic in their life. Or just keep it for yourself. I mean, it's a little too cute and witchy not to.
Is this the most welcoming doormat? No. Should you put it outside your door for Halloween? Yes, yes, and yes.
Yup, you should definitely write your notes, to-do lists, and the like in a notebook that looks EXACTLY like the movie's spellbook. You'll get used to the creepiness eventually.
It's getting a little chilly out so you should probably curl up in this super comfy "I Put A Spell On You" sweatshirt. Then go ahead and run around the house yelling AMUCK AMUCK AMUCK.
Now, hop on your broomstick, Hocus Pocus tumbler in tow, and do some witchy damage. Halloween comes but once a year.
We are a participant in the Amazon Services LLC Associates Program and may earn fees by linking to Amazon.com and affiliated sites.
This article was originally published on