A 'Hocus Pocus' LEGO Set May Be Coming To A Store Near You
by Kristine Cannon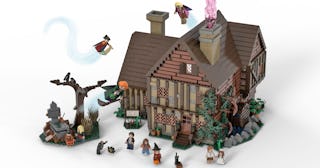 Amber Veyt/Lego Ideas
The nearly 3,000-piece set has it all: the Sanderson Sisters, Binx, a 'cursed' black flame candle, and much, much more
"How is it possible that a Hocus Pocus LEGO set doesn't exist?" is likely what super-fan of the 1993 film and LEGO builder Amber Veyt asked herself when brainstorming her first-ever LEGO set design to LEGO Ideas. So, she created just that — and her LEGO version of the Sanderson Sisters' cottage is so detailed and incredible, it's currently in review by the LEGO team.
Veyt's 2,700-piece Hocus Pocus set includes Billy's grave; 12 custom-made minifigures, including Winifred Sanderson, Sarah Sanderson, Mary Sanderson, Max Dannison, Dani Dannison, Allison, Emily Binx, Thackery Binx, Binx, Billy Butcherson, Ernie/Ice, and Jay; the iconic Sanderhouse house, the home of Salem witches Winifred, Sarah, and Mary Sanderson; and tons of other custom elements, like Winifred's broom, Sarah's mop and Mary's vacuum; a "cursed" black flame candle, lit by a virgin during a full moon, of course; a spellbook with the spell that was used to turn Thackery Binx into a cat; museum signage and spinning black cages, and much more.
"I absolutely loved this movie as a kid and never stopped loving it ever since!" Veyt wrote on the LEGO Ideas website. "When I rewatched the movie and saw the Sanderson Sisters' cottage, a voice in my head said that this cottage would be an awesome LEGO set. Not only for die hard Hocus Pocus-fans but also for the ones that love spooky or haunted houses, Halloween and well — just a bunch of hocus pocus!"
According to Veyt, the set represents the moment when Max Dannison lights the black flame candle.
"Green light comes out of the floor and the tiles are shaking," she explains. "Candles get lit by magic and so does the fireplace, the spellbook opens his eye and then the Sanderson Sisters walk back into their home after 300 years, hungry for childeren — ON TOAST!"
Because Veyt's Hocus Pocus LEGO kit reached the 10,000 supporters milestone, it has officially advanced her project to the Review phase. This means a "LEGO Review Board" composed of designers, product managers, and other key team members will examine the idea and build concept models and determine if the concept meets their high standards for what it takes to be a LEGO product. "This includes factors such as playability, safety, and fit with the LEGO brand," they said.
LEGO moved the Hocus Pocus set into the review phase on Sept. 8, and according to their letter to Veyt, the review can take "several months." If her kit moves on to the next phase — the Development phase — that, too can take several months.
In the meantime, we already have plans to watch the film on a loop throughout the entire month of October, as we eagerly await the Disney+ Hocus Pocus sequel.
"It would be perfect timing for the release of the second Hocus Pocus film coming next year!" Veyt writes, adding that 2023 marks the film's 30th anniversary. And we couldn't think of a better way to celebrate than by building this impressive LEGO set.
This article was originally published on