This Learning App Is Like Having A Tutor— But Way Less Expensive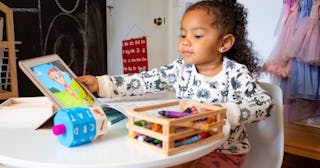 Homer
Can we all agree that parenting during COVID is stressful, challenging, and an interesting experience? We're putting a big grin on it, but the truth is, all parents could use a socially-distanced hug right now. Or like, five. Enter HOMER, the essential early learning program for kids 2-8 that's research-back, kid-tested, and parent approved.
For one, my kids actually love it.
With a 3-year-old who's going through the all-things-Frozen stage and a 5-year-old who's obsessed with all things space and sports, I needed help keeping my kids engaged, learning, and having fun. Unlike other early learning programs that ask for a child's age and call it "personalization," HOMER really gets to know my kids. Its initial quiz asks about their unique interests and specifics about their ability to hear sounds, identify letters, learn their numbers, how to make friends — all that good (and necessary) stuff — and creates a personalized learning plan just for them. As they learn new skills for school and for life, my kids explore topics they love, and discover new obsessions. (Yep, the robot stage is round the corner — I'm already hoarding Amazon boxes.) And when I want to take those skills offline, I don't need to scroll through Pinterest for hours, HOMER's Activity Center has offline activities sorted by age, type, and even mess level (LOL).
When my kid is confident, that makes me feel more confident as a parent.
Two (pretty cute, if I say so myself) kids, hundreds of early learning programs to choose from! HOMER made the decision easy because it's personalized, kid-tested, and proven to increase early reading scores by 74%. That gave me the confidence to take them up on their free 30-day trial, and I'm so glad I did. HOMER's research-backed proprietary framework guides my kids through the core skills they need to read. It gives them those "I did it!" moments you get when accomplishing something just outside your comfort zone. Since starting HOMER with their Learn & Grow app, my kids are *actually* excited to learn. They feel smart and that gives them the confidence and motivation to learn more! And I love seeing them show off their new skills! It makes me feel confident that I made the right choice as a parent to give my kiddos such an engaging, enriching experience that not only they love, but one that shows results.
HOMER Time = Mommy Time!
And let's be real: I get more Mommy Time out of this, too.
Usually, I use "HOMER time" to catch up on work deadlines, laundry, Instagram, and self-care. HOMER isn't just designed by learning experts — they actually know how kids like mine use devices and created a program kids can play without adult supervision. It's ad-free, so I don't need to hover or worry about what might pop up, and it's designed for kids' developing understanding of touch screens. The activities for my 3-year-old are age-appropriate and the ones for my 5-year-old are a bit more advanced. If my little one's in a quiet mood and doesn't want to play the learning games, she can choose her favorite story and unwind using HOMER's read-to-me mode. I love joining her midway through and enjoying the story together. When I'm ready to give her my full attention, we can scroll through HOMER's library of stories and select our favorite ones to read together.
So, if COVID is pulling you in different directions and you could use some support (or even just some time to enjoy your coffee while it's HOT), check out HOMER's personalized learning program. Pricing is super affordable ($9.99/month after your 30-day free trial). Your kids will love it, and you will love it. You got this, mama!
This article was originally published on