This 'I Love You 3,000' Mug Is The Perfect Gift For The Iron Man-Loving Dad In Your Life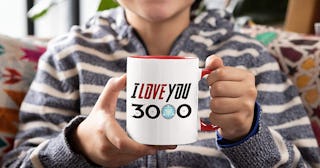 Amazon
Any Marvel fan will probably burst into tears the second they hear or read the line, "I love you 3,000." It's just how it goes, I don't make the rules. It's a reference to a line that Morgan Stark says to her dad, Tony Stark (i.e. Iron Man) in Avengers: Endgame after he puts her to bed and says "I love you tons." She replies with "I love you 3,000."
What makes the line even more sentimental and heart-destroying, is that it's actually something Robert Downey Jr.'s IRL kids tell him, and he's the one who suggested that line (Morgan was supposed to just say "I love you tons" back — but this is so much better).
After Endgame premiered and ruined us, "I love you 3,000" became a mantra. We didn't know what it really means (was it some kind of genius engineering joke only the Starks would get? Was it foreshadowing the end of Endgame? What makes 3,000 so significant?), but we loved it. We loved it 3,000.
And now, you can get your dad (or anyone, really) an "I Love You 3,000" mug for Father's Day. It's the ultimate message of love, and if they love Marvel, they'll appreciate it even more.
It's about $18, dishwasher and microwave-safe, and made with the highest quality ink, so it won't fade after three washes. One of the details we love 3,000? One of the zeroes is Tony's heart (well, his arc reactor). Honestly, we might be stealing this gift back from Dad.