These Inflatable Hot Tubs Are Here To Make This Your Best Summer Ever
by Christina Marfice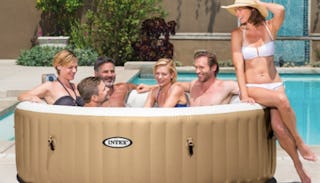 Image via Walmart
Every time I entertain the idea of getting a hot tub for even a split second, I immediately remind myself that a) hot tubs are expensive, b) hot tubs require maintenance and I am lazy, which is a problem, c) I don't have the room, and d) I have commitment issues with large purchases, so I just avoid them all together. But what if I could buy an inflatable hot tub? So when I'm done using it, I can put it away, I won't have to worry about hardcore sanitization and the upkeep hot tubs require, and I don't have to spend real hot tub money. Sounds pretty sweet.
This Coleman SaluSpa inflatable hot tub is fairly large (good for ~4-6 people), as it's 77" x 77" x 28". It has jets (yes, jets, did you think I was just talking about a kiddie pool?), a massage system, a heating system, and a water filter. The water heats up to 104 degrees, and is made of extremely durable material, so you won't have any safety issues to worry about. And speaking of safety, it comes with a pre-tested pump, hot tub, and a ground fault circuit interrupter that trips at 6mA. Also, it's easy to set up as well as drain.
"We've had this for over a year now and are more than happy with it! We really wanted a hot tub but were not willing to spend thousands of dollars on one. This one is very easy to set up, take down, clean, and maintain," one reviewer says.
"Love this tub. I've had it two months now. Electric bill barely budged $10 a month even the first month when I filled it with 39 degree water and it heated for 4 days straight !! I set it up pretty quick, maybe an hour but I was in no rush. Filled up within 20-25 min tops," another shared.
It's surprisingly VERY comfortable: "So how is it overall?? Amazing. Setup was fast and this thing is great. As for sitting on the floor.. it just works. It's comfortable and because it's vinyl and not a hard material you don't slide. The jets are all around the base of the tub but if you lean on the side they work your back pretty good," one reviewer wrote.
And if you're wondering: Yes you can totally use this hot tub in the dead of winter where it snows. You just need to get the water source to heat up to at least 40 degrees, which might take a little while.
This article was originally published on