This Inflatable Speedboat (Yes, You Read That Right) Is Currently Over 50% Off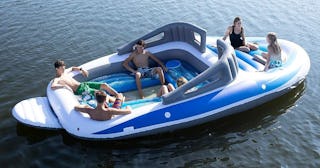 Amazon
The only thing that's cooler than this inflatable speed boat from Sun Pleasure is the fact that you can grab it on Amazon right now for a fraction of its original price of nearly $600.
The Sun Pleasure Inflatable Bay Breeze Boat comfortably sits six adults as well as their drinks thanks to a plethora of cup holders. It looks like an actual boat, but there's not motor necessary to have a great time. Simply hitch it to your actual boat, a dock, or weigh anchor off the shore, and you've got yourself an awesome party spot.
The float includes a rear swim platform and five handles located around the perimeter for easy mounting and dismounting, as well as a built-in cooler for all your beverages. There's a hangout spot at the bow of the boat, as well as a bench seat in the middle.
"Used this for the first time on the Fourth of July. It was a blast," one five-star reviewer wrote. "It's a bit of a chore to inflate but worth it. Everyone loved it. The sheer size of it just makes you laugh. We bought it for the kids, but the adults spent most of the time enjoying it. We leashed it to the dock on a very long line and used a paddle to guide it…Although we bought it as a novelty item, hope it lasts."
Another happy "boater" wrote, "A group of us bought this for friends as thank you for hosting us over the years at their lake house. We all (6) used it last weekend. It was a blast! It's so much fun and [a] very unique design."
So, if you don't have a friend with a boat this summer, no problem. You can grab one yourself at a huge discount right now!
This article was originally published on