Yes You Can Still Buy A Freaking Instant Pot For Cheap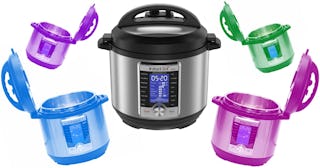 Instant Pots are THAT great, Mom! So, for the love of pressure cooking, slow cooking, rice cooking, steaming, sautéing, and yogurt making – get it! You have just a few hours left to swipe a deal, and it's by far been one of the most popular items sold for Prime Day 2019.
🔥41% OFF (It's $87.99 instead of $149.95.)
Read More:
We Will Be Your Shopping Assistants For Prime Day 2019
These Are The Amazon Prime Day Deals Of 2019 Moms Are Going Crazy For
Prime Day Tech Deals Are No Joke And We're Finding All Of Them
Our mom experts only recommend picks they really love. We may earn a commission on purchases made through links from our site, but if we love it, we know you'll love it. And we Scary Mommies gotta stick together.
This article was originally published on