We Talked With Jessica Alba As She Launched New Products For Her Beauty Line
by Dana Baardsen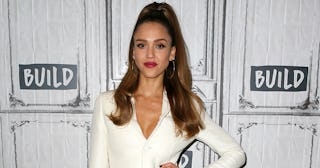 Dominik Bindl / Getty
We just sat down with Jessica Alba as she launched new products for her Honest Beauty line, specifically new liquid lip products. But we have to ask: How the hell is it possible to create a gorgeous line of beauty products (with quality ingredients) at a price affordable for everyone?
Alba says, "I grew up with my parents living paycheck to paycheck. I also have sensitive skin, to the point where I can't even use regular Band-Aids." Of course it makes sense Alba would come up with an affordable product line that's safer for skin. The Honest Company is competing with some of the biggest brands in the game. (AKA, her business model works.)
RELATED: Hear The Full Interview With Jessica Alba On Scary Mommy Speaks
The mom of three continues, "It has a lot to do with our supply chain. There's a large amount of creativity involved. We develop original formulas and colors, and it comes to life thanks to our chemists and researchers. But we need to figure out how to safely source the products at scale. This gives us the ability to replace a petroleum-based ingredient with a coconut-based alternative… and make it available for everyone."
Jessica Alba posed for a shot with me after I tested some products and got the scoop!
Mallory McMahon, Manager R&I, Research and Development of Honest Co. is pretty honest, too. "We do include synthetic ingredients, but we consider where our ingredients are sourced as we make decisions. We have hyaluronic acid in our liquid lip line, for example, but if we naturally sourced it? It would come from a mammal. Our liquid lip line is a vegan product, so that is a bigger priority when it comes to how we formulate the products. We also use a synthetic alternative to beeswax, for example."
Yep. We are loving on you and your biz even more now, Jessica. #SaveTheBees
Okay… back to the fun stuff. (Time to shop!) Here's a brand new beauty product that was just released:
She also knocked 20% off of these popular items from her line, but just for today:
Read More:
These Are The Best Drugstore Tinted Moisturizers You Can Buy
Dry Shampoos This Effective Will Help You Feel Clean When You Can't Shower
These Stretch Mark Creams Will Fade Your Lines And Help Prevent New Ones
Our mom experts only recommend picks they really love. We may earn a commission on purchases made through links from our site, but if we love it, we know you'll love it. And we Scary Mommies gotta stick together.
This article was originally published on