Get Early Black Friday Savings On This Enameled Cast Iron Cookware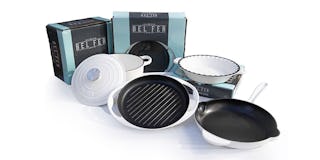 Aside from the aggression of people on Black Friday, you're also avoiding the germs of people this year. Fortunately, you can take care of all your holiday shopping online and even score the same big savings. Take, for instance, this set of Inspired Home Five-Piece Enameled Cast Iron Cookware and Bakeware. It's a gorgeous collection that can help you cook and serve just about any dish perfectly, and right now it's 70% off.
You can cook everything from pan pizzas and fried chicken to dutch baby pancakes and tortillas to even filet mignon in just one of the four pieces in this set. Cast iron cookware is one of the best kitchen companions because it's able to reach perfect, even temperatures for an equally even cook, whether on the stovetop or in the oven. What's even better? This set is enameled, so it makes things simple with nonstick qualities that are effortless to use and even easier to clean.
Cast iron cookware is the professional choice, and it's usually accompanied by an industrial appearance. This set has a stylish white exterior to better fit in with your existing aesthetic, but it still features the same high-quality performance you expect.
Every order includes a three-quart round dutch oven with a lid, a 10.25-inch pie pan, a 10-inch round grill pan, and a 10.25-inch skillet. Each carries the functionality to cook evenly to lock in moisture and deliver tasty results every time.
Score your own 4.5-star set or gift one to a friend with a Black Friday deal that doesn't include the Black Friday rush. Normally $299, this pretty enameled cast iron cookware set is now 70% off, dropping the price to $89.99.
Prices subject to change.
This article was originally published on