I Will Never Buy Kids (or Baby!) Clothes From a Department Store Again After Discovering Rockets of Awesome
by Team Scary Mommy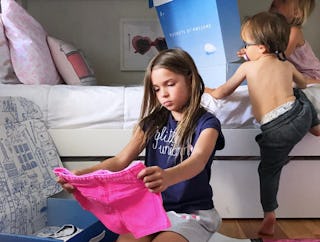 Rockets of Awesome
There are some things you can try to get ahead of as a parent – but buying clothing for your kids is NEVER one of them. The second you find something they're okay with wearing, they've suddenly outgrown it. Plus, the clothing battles with each child are different. My daughter gets bored with her options and claims she has nothing to wear, while my son wears the same t-shirt and sweatpants every day – to the point that they are disintegrating. Add my newborn to the mix, and I'm seriously on the brink.
In my endless frustration with buying them new clothes, and now that I have even less time on my hands with a tiny babe, I have been leaning on a service that does the work for me. Enter Rockets of Awesome, an ecommerce clothing company that offers super easy ways to shop for fun and high-quality kids' and baby clothes you won't find anywhere else. I chose to sign up for a seasonal box of clothes custom-selected for my kiddos. It's delivered straight to my door four times a year, with an unreal discount of up to 45 percent if I keep everything. At first, I was skeptical about trying another subscription box because StitchFix Kids and Kidbox did not live up to the hype. But Rockets of Awesome is light years ahead with super soft, unique styles your kids will actually want to wear. Most importantly, if you decide you prefer to do the shopping 100% by yourself – you can! They offer a la carte shopping with all of the very same styles in their online shop. The ultimate flexibility for parents like us who Just. Want. Our. Options.
But the most exciting news is that they've just launched their Rockets of Awesome Mini line for babies 0-24 months. The Mini clothes are so cute, I'm embarrassed to admit that I legitimately squealed when I saw them. In addition to being the most adorable baby clothes you have ever seen, the designs include parent and baby-friendly features like easy zippers, amazing stretch, and buttery soft materials.
It's clear that the company just gets kids – and parents. Rockets of Awesome founder Rachel Blumenthal is a mom of two so she's all too familiar with the mom juggle. The genius behind the service is that they take the guesswork out of online shopping. Their clothes are thoughtfully designed with the softest fabrics and kid-tested for comfort i.e. itch-free, scratch-free, and rarely have tags. (My daughter is pull-your-hair-out picky about what she wears, but she's obsessed with the crazysoft crew and super stretchy activewear she got in her latest box.)
As a self-diagnosed, high-functioning control freak, I love that I get to choose how many items come in a box (5, 8 or 12) and swap out items before it ships. (Mini boxes currently come in just the 8-item box.) Even though I always know what's coming, I share in my kids' excitement when they spot those signature blue boxes on the doorstep. To start, all I had to do was take this style quiz so their smart algorithm could learn my kids' preferences, and they instantly showed me the contents of my kids' first boxes with the "Peek" feature. In the time it takes to tap "like" on some photos in my Instagram feed, I had approved a bunch of styles, made some swaps and hit "send" on a set of items I knew my kids would love for school and play. And returns couldn't be simpler, just mail back any items you don't want to keep using their prepaid shipping label. You can even send back outgrown clothes (from any brand!) for shopping credit.
Mama, Rockets of Awesome will make your life so much easier. You're their teacher, camp counselor, chauffeur, chef…need I go on? Let Rockets of Awesome be their stylist. Use code SCARYMOMMY to get 20 percent off your first box, risk-free. If you find yourself missing the department store meltdowns and shopping bag schlepping of yesteryear, you can return everything and cancel your subscription at any time. But something tells me, you won't.
This article was originally published on