These Deals Are On Fire: Kindle Fire For Kids (40% OFF) And More Amazing Tech To Grab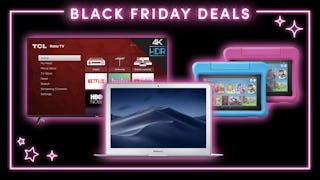 These deals are on fire, and we mean that literally and figuratively, Mama. Grab the Kindle Fire for Kids at 40% OFF for a limited time! And if you have two munchkins that refuse to share, you can get 2 for 50% OFF! Then get this MacBook Air for yourself – it's only $699! Plus, if you're looking to invest in a Smart TV, you'd better jump on this TCL deal because it's almost HALF OFF! You know what would make your Black Friday on a Tuesday complete? Snagging this soundbar for 43% OFF.
Investing in tech is usually something that requires a lot of thought, research, 'pro and con' list writing, and wringing of hands, but at these prices, it's a no brainer.
40% OFF (WAS $99.99)
50% OFF (was $199.99)
30% OFF (was $999)
47% OFF (was $599.99)
43% OFF (was $699)
This article was originally published on