You Can Get all 7 Harry Potter Books for $0.99, With This Amazon Deal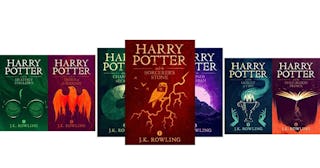 It feels like the heavens just opened up to let the best books rain down on us. Amazon is running an insane deal right now which offers access to over one million books for THREE full months… for just $0.99.
The best part? The subscription includes popular page-turners and grants access to today's most in-demand literature, like the entire Harry Potter book series. No joke, you can download the entire series (seven books) for $0.99 if you sign up for Kindle Unlimited.
What is Kindle Unlimited?
Kindle Unlimited is like a media streaming service, but for books. Instead of paying for a single book, you pay for a subscription package and gain access to an unlimited variety of books. In addition to books, Kindle Unlimited offers thousands of audiobooks to choose from, the hottest magazines, and more. Bar hopping is fun, but book hopping is so much more satisfying.
Is Kindle Unlimited affordable?
Now it is. You can sign up to read your favorite titles (over one million to choose from) for $0.99 via Kindle Unlimited. The subscription will last for three full months, which is plenty of time to read a few titles from start to finish. After the subscription ends, you can still access the massive library for $9.99.
What's the best Kindle to use?
If you don't own an e-reader, consider getting the new Kindle Paperwhite. The waterproof Kindle Paperwhite features a glare-free display that reads like real paper even in bright sunlight.
Plus, get ready to bump your favorite tunes at another low price. Amazon is running another dreamy deal right now that offers access to millions of songs and artists… for FREE for 4 months ,with the purchase of an Echo Dot.
You'll get access to unlimited music, on demand, and always ad-free. You can listen offline, skip as many songs as you want, and of course, use it with any of your Alexa devices. Like the book deal, you can access the tunes for $9.99 when the free version runs out.
Read More:
54 Gifts For The Mom In Your Life: Because This Sh*t Is Hard And She Deserves It
Holiday Gift Guide For Kids: 40+ Presents That Will Make This The Best Christmas Ever
29 Teen Gift Ideas, Because Who Even Knows What They Like?
This article was originally published on