Don't Miss The Last Day Of These Labor Day Back To School Deals
by Rachael Lubarsky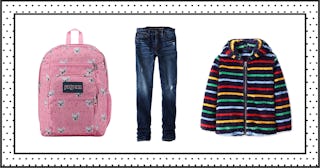 See you later summer! If you spent this past weeked savoring those last few seasonal moments lounging by the kiddie pool, you might have some Back To School shopping left to do, Mama. We've got you covered (like your favorite faded beach towel). Get schooled on these Labor Day sales before we close the book on them.
40% OFF Everything; 30% OFF Sleep; Additional 30% OFF Clearance
40% OFF (was $62)
30% OFF (was $44)
Up to 65% OFF fall must-haves.
35% OFF (was $35.99)
65% OFF (was $180)
Up to 40% OFF amazing shoes, clothing and accessories for all ages.
40% OFF (was $100)
40% OFF (was $26)
25-60% OFF everything; 50% OFF bras.
25% OFF (was $49.95)
25% OFF (was $79.95)
8/29: Up to 50% OFF + extra 25% OFF with code AUTUMN.
8/30 – 9/2: 40% everything with code DAYOFF.
30% OFF (was $69.95)
20% OFF (was $34.95)
Up to 60% OFF brands like Nike, Adidas, and Puma.
40% OFF (was $89.99)
50% OFF (was $89.99)
30% OFF select backpacks; great deals on BIC, Mead, and more.
30% OFF (was $24.99)
30% OFF (was $44.99)
Our mom experts only recommend picks they really love. We may earn a commission on purchases made through links from our site, but if we love it, we know you'll love it. And we Scary Mommies gotta stick together.
This article was originally published on