People Can't Stop Listening To The Audiobook 'The Last Thing He Told Me'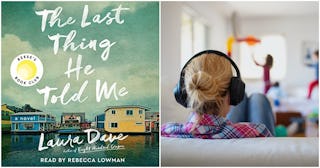 Audible / Thanasis Zovoilis via Getty Images
First, before you even think it: Listening to books isn't cheating. So if you haven't jumped on the audiobooks bandwagon, you are very much missing out. Especially when a page-turner like The Last Thing He Told Me by Laura Dave comes around and all your friends are talking about it (it was even a Reese Witherspoon book club pick recently). What's cool about audiobooks, and Audible in general, is that right now you can score an Audible Premium Plus membership for 53% off for Prime Day and get this book for FREE. Like, zero dollars.
And if you want to read-read it, you can also get Kindle Unlimited for free for four whole months (if you're a Prime member). Today and Tuesday only.
What's The Last Thing He Told Me about?
Owen Michaels disappears, leaving only a note to his newly-wed wife that simply states "Protect her." Hannah, said newly-wed wife, knows who Owen is talking about: His 16-year-old daughter, aka her brand-new stepdaughter, Bailey. Bailey, who hates her guts. Hannah can't reach Owen, and soon his boss gets arrested by the FBI, then Hannah's home gets raided by the feds. Who exactly was her new husband, and what kind of trouble did he get into?
Hannah and Bailey band together, temporarily setting aside their troubled relationship for a second to figure out Owen's disappearance and what all of it could mean. But as they start discovering clues, a whole mess of a new world unfolds before them.
Is it a crazy, I-can't-stop-listening-to-this-book-until-I-found-out-what-happened read? Yes. Is it perfect for the beach? Yes. Is it perfect for just escaping real life while you're washing dishes and folding laundry? Yes, yes, and yes.
So, what are you waiting for? Audible's deal is going to expire soon, and you should probably just sign up (you can cancel at any time — read our official Audible guide here).
This article was originally published on