This Language-Learning Service With 4.5 Stars on Google Reviews Fits Any Schedule
by Scary Mommy Team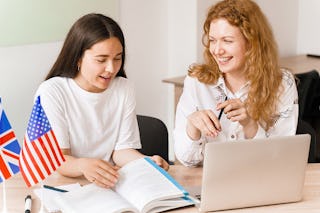 StackCommerce
Have you been watching your vacation days stack up since March 2020, just waiting until travel felt safer? You're not alone. And now that the world is opening up, traveling is slowly becoming more normal. If you've got an exotic destination you'd love to cross off your list, but if you don't speak the native language, there's still time. In fact, if you've got a month, you can start mastering a new language from the comfort of your home, thanks to Lingoda Live Language Courses. A one-month subscription to this handy service typically costs $67, but is available right now for 27% off at $119.99.
Even the busiest moms will find carving out time for Lingoda Live Language Courses a breeze. These private classes, which run 60 minutes each, are taught by qualified, native-speaking teachers ready to help you master the language. In fact, there are over 1,000 of these skilled teachers available 24/7, so they're guaranteed to fit even the craziest schedule, allowing you to master a language in the morning, at night, on the weekends or whenever works best.
Lingoda teachers have years of professional teaching experience under their belt, so they're ready to guide you on a customized language-learning journey and get you speaking fluently ahead of that next big trip. Already have a little bit of knowledge under your belt? These CEFR aligned language courses work with anyone from total beginner to advanced. All you have to do is choose your course, choose your level, and then choose the classes you'd like to take, depending on the topics and times that work best for you.
With 4.5 stars on Trustpilot, 4.5 stars on Google Reviews, and the esteemed distinction of being an Official Lingaskill Agent, Lingoda Live Language Courses are ready to help you conquer French or Spanish whenever you're ready. All you need is a Zoom account and a stable web connection, so what are you waiting for? Cash in those vacation days and sound like a local after snagging this one-month subscription for just $119.99.
This article was originally published on