Give Yourself A Spa-Worthy Facial With This LED Light Treatment Mask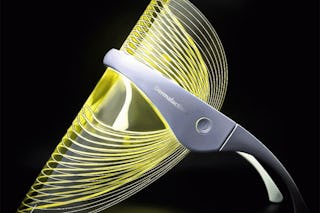 StackCommerce
We've all been missing a good spa day, from drinking the fancy water to relaxing during a fabulous facial. But if heading to the spa isn't in your immediate future, it might be time to learn to make your own bath bombs and invest in a light treatment mask. The DermaShield 7-Color LED Light Treatment Mask helps you get healthy and clear skin for a one-time price. It's currently on sale for $59.99 for a limited time, and reusable and ready to provide you with glowing skin at home.
After all this family time at home, most moms will take any excuse to get away from the family and hide out in the bathroom. The DermaShield 7-Color LED Light Treatment Mask not only lets you get 15 to 20 minutes of peace daily, you'll also reap the benefits of great skin. It uses near-infrared LED technology that has been studied by NASA and medical institutions, with over 1,000 multicolored lights that penetrate deep below the surface of your skin.
From stimulating collagen production, minimizing signs of aging, reducing inflammation and eliminating blemish-causing bacteria, this mask requires zero downtime and plenty of benefits. There are no dangerous chemicals or UV rays that harm your skin, and even the max setting can't do any damage, so you can use it without fear. And the 7 different colors, red, blue, green, purple, cyan, blue and white all have different benefits, and together contribute to diminish the look of lines, wrinkles and discoloration and make your skin look its absolute best.
With an impressive 4.2 out of 5 stars on Amazon, customers are seeing instant improvement in their skin. One happy customer raved, "Within 4 days of using the mask, I saw an immediate reduction in any red spots, small acne spots & inflammation. The overall tone of my face became very even (using the purple light) I also noticed fine lines around my eyes & my smile that have drastically reduced (using the orange light). Highly highly recommend this product!!!" Just add some cucumber water and you'll feel like you just left the spa!
Spoil your skin with the DermaShield 7-Color LED Light Treatment Mask for the one-time price of $59.99.
This article was originally published on