This Pre-Seasoned Cast Iron Skillet With 50,000+ 5-Star Reviews Is Chef-Approved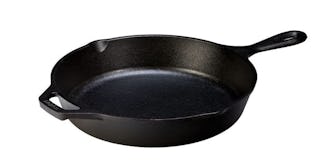 Amazon
Prime Day is overwhelming. With thousands and thousands of products on sale, it can feel like an impossible task to narrow down what's actually worth it and what's not. While we've put together a comprehensive list of best Prime Day deals on Amazon this year, we also know that you might just want to know about the best possible item you should your money on, and I have the answer for you: Lodge's Pre-Seasoned Cast Iron Skillet.
I own a couple of these (along with a few other Lodge cookware products), and my husband, who's a professional chef, actually prefers Lodge over Le Creuset for the money. And if we're going to get a skillet, it's going to be from Lodge, hands-down. "It's more durable, you can take it camping if you want, you don't have to feel bad about any scratches or burns, and it'll last you forever. Same quality as Le Creuset, but Lodge is just more budget-friendly and you can really beat it up and not feel guilty," he explained. (He does almost all the cooking in our household, so you should most definitely trust him.)
This 10.25" skillet comes pre-seasoned with natural vegetable oil, which is a huge plus. It means you don't have to cook and cook and cook and wait for your skillet to get seasoned over time with oil and grease. It already comes this way, making it easier to cook food without it sticking to the pan. Many pro chefs will tell you they prefer to season their skillets and pans versus buying non-stick. It makes food way more flavorful and juicy.
Use it to sear, sauté, bake, broil, braise, fry, or grill; it's also totally oven-safe. For $14.88 (44% off!), this is truly a must-have for your kitchen if you like making tasty meals. And with over 50,300 5-star reviews, it's not just my family that loves this skillet — it's, well, 50,300 reviewers, too.
This article was originally published on