Lucky Charms Is Selling Bags Of Giant Marshmallows And Your Kids Are Gonna Freak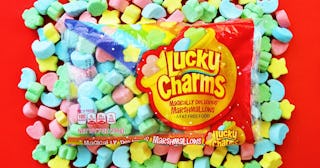 Lucky Charms
There are now bags of giant Lucky Charms marshmallows so get excited
Hey parents. Guess what? There's something about to be widely available on grocery shelves that will make both your kids and your nostalgic heart so very happy. We're talking about GIANT bags of Jet-Puffed Lucky Charms marshmallows thanks to a collab with the cereal company and the purveyor of campfire must-haves everywhere.
Yup. Bags of huge Lucky Charms marshmallows without any of that pesky almost-healthy oat cereal getting in the way. Your breakfast (and smores game) just got so much better. They'll be available all over in September and run about $1.50 per bag, according to PopSugar. A total bargain if you ask us.
Of course, Jet-Puffed is equally pumped to be part of this dynamic combo.
"Our favorite fluffy part of @LuckyCharms! Get excited for our magically delicious marshmallows," they said. Oh we are, don't you worry.
In fact, people are pretty much losing their minds over this amazing discovery.
Can you even blame them? Who among us hasn't gone picking through a box of Lucky Charms for the marshmallows and marshmallows only? I am basically famous in my family for doing just that and my husband (who does the majority of our grocery shopping) has taken to buying double boxes — one for me to pick through and one for everyone else in our household. That is extreme marshmallow commitment and I must be their target demographic.
This glorious find will look great in your pantry next to other sugary breakfast (or breakfast-inspired) delights. Like this Unicorn Cereal from Kellogg's.
And this chicken and waffles combo that is pretty much all good things in this world.
So now you have a number of sugary items to add to your pantry this weekend. Go forth and enjoy.
This article was originally published on