Here's How To Score 20% Off Your Entire Maisonette Purchase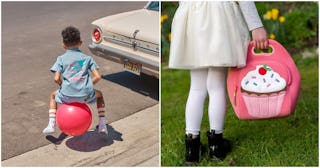 Maisonette
It's no secret: Parents turn to Maisonette for cute, quality kids clothes and unique accessories and toys that aren't run-of-the-mill. From preppy button-ups, to layer-able hoodies, to face masks to coordinate with all their outfits, Maisonette's Back To School Shop ensures your little one is prepared with everything they need to head to school or daycare — and they'll do it in style. You'll want to check out the Neon Rebels Collection, which celebrates self-expression, as well as the Basics line for stocking up your kids' closets. And when it comes to back-to-school gear, their assortment of kid-approved backpacks, lunch boxes, and school supplies will have them ready for a successful day of learning and play.
But here's the best part: We have an exclusive coupon code for you, courtesy of Maisonette. And with most pieces available in sizes 2y-14y, you can dress both your tot and your tweenager.
Use Code SCARYMOMMY20 for 20% off your order of $50 or more.
(P.S. That includes getting more money off of discounted items! However, some exclusions apply on particular brands.) So, moms and dads, go ahead and shop away — then let the school year commence. Below, see some of our favorite picks from the Maisonette Back To School Shop.
Back-To-School Clothing Picks
Backpacks & Lunch Boxes
School Supplies