These Minecraft LEGO Sets Are Awesome — If You're Not A Square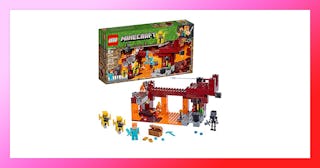 Amazon
Whether you're a parent, aunt or uncle, or just know someone who has kids, there's a chance you've heard the term "Minecraft," and it's likely they want a Minecraft set for a birthday or holiday. This is because Minecraft is one of the most popular video games of the decade, among kids and adults alike. So, if you're looking for the best gift for the Minecraft lover(s) in your life, look no further.
What Is Minecraft?
Available for PC, Mac, and Xbox 360 (in addition to the mobile versions for iPhone, iPad, and Android smartphones), Minecraft is a creative video game in which the players can create and break apart brick-like blocks in three-dimensional worlds. The goal of the game? To explore, build, and survive.
While it may seem too simple of a game to have any real educational value, Minecraft teaches young players essential life skills, such as self-direction, problem-solving, collaboration, and creativity. There's even a semiannual convention (known as "MineCon") and an educational initiative that's got the game in schools, too.
The Best LEGO Minecraft Sets You Can Buy Online
Since its creation, Minecraft has taken on a life of its own. Now, there are hundreds of worlds, customized themes, and versions of the game. There's even a LEGO-Minecraft combo (which is referred to as a Minecraft set) that children can play with IRL.
Need help deciphering which Minecraft set is the best? We've done the research so you don't have to. Give the gift of creativity with one (or more!) of the Minecraft sets listed below.
Cheap Minecraft LEGO Sets
If there's one thing kids don't understand, it's money. Avoid overspending and opt for one of the affordable Minecraft sets below.
Big Minecraft LEGO Sets
If your little one is up for a challenge, you can purchase Minecraft LEGO sets with as many as 1,000 pieces! Though, we'd recommend buying a Minecraft carrying case or organizer, just in case.
This article was originally published on