Decorate Your Tree With Mini Ceramic Trees For A Meta Vintage Look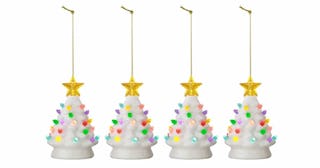 Target
Vintage ceramic Christmas trees are back, and this ornament set is cute and meta
Long before faux Christmas trees, and rainbow trees, and ombre trees, there was a Christmas tree tradition in the '70s called the "ceramic Christmas tree." As Christmas trends come and go (or stay, we're looking at you Elf on the Shelf, why won't you retire yet?), one vintage trend is back for 2019 and that is, of course, the ceramic Christmas tree.
Target is selling mini ceramic tree ornaments that you can hang on your actual Christmas tree for a meta nostalgic look. Trees on trees on trees.
"Bring the vintage charm of a classic ceramic Christmas tree home for the Holidays with the set of Nostalgic Trees by Mr. Christmas," the description reads. "Inspired by the trees of decades past but brought into the present with new technology." The set includes 4 mini trees, each standing 5.5″ tall, and they all light up with a pair of AA batteries. This cute little set can be yours for $50.
You can also buy them individually for just $6 each, but they don't light up.
To jog your memory, a ceramic Christmas tree is a hand-painted, usually green, miniature table-top tree with twinkle lights on each branch. You weren't a proper '70s host if your Christmas open house didn't include a ceramic tree (or two or three), some glass ornaments, and of course, an Elf on the Shelf.
These ceramic trees came in a variety of shapes, sizes, and colors.
If you can't get your hands on an actual vintage ceramic tree, Target and a zillion other retailers have you covered.
Scoop up this four-pound, 14-inch tall, white Christmas tree to match the ornamental set for only $30, also at Target.
Amazon has a 15-inch green tree that looks just like the vintage ones from your youth. The Amazon tree (via Best Choice Products) retails for $39.99.
If you want a super throwback ceramic tree, try this gold tabletop tree from Wayfair ($54.99), it's battery-powered, aka no cord, so it makes a great Christmas table centerpiece.
pic
You could also go for a pink ceramic tree, like this nine-inch one we found on Amazon for $22.95.
If ceramic trees aren't your thing, but a retro holiday is — Target has a an entire collection of vintage-inspired Christmas decor, like striped glass ball ornaments ($21.99)…
…Or, those glass ball cluster ornaments ($27.99) we totally forgot about until this moment.
We love all the new holiday traditions (sunflower Christmas trees are extremely cheery), but there's nothing quite like the cozy retro Christmases of yesteryear.
This article was originally published on